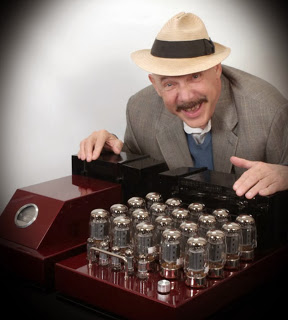 Bob Carver with one of his Tube Amps
Back in the summer it was big news that Emotiva had purchased Bob Carver's latest company, which made tube amps. If you're not familiar, Emotiva is a value-focus Internet direct company that made its name through high performance amplifiers at a low cost since they were made in China. Emotiva has been looking to develop tube amps and many in the audio industry saw Bob Carver's move to Emotiva as a big development for value-based tube amps.
Well, all those hopes have been dashed now that Bob Carver himself has ended his relationship with Emotiva. The announcement came directly from Emotiva's president, Dan Laufman. It looks like Emotiva is still pushing towards the release of tube amps at some point in the future as Dan wrote, "…we're absolutely committed to making tube amps (and other products) under the Emotiva name, and they're coming to our website in short order. You'll see them listed under a separate series, like we've done with the Pro products…."
So for those poor audiophiles who are in love with the sound of tubes but cannot afford the typically high cost of tubes, there's still hope that sometime in the near future there will be an Emotiva-branded tube amp for you.