DirectTV is offering a free 32GB AppleTV 4K for new subscribers of their DirectTV Now streaming service who prepay three months of service for $105. The DirectTV three month deal is even better than DirectTV's previous bundle which required a prepay of four months. You can take advantage of this special deal from DirectTV's special AppleTV promo page.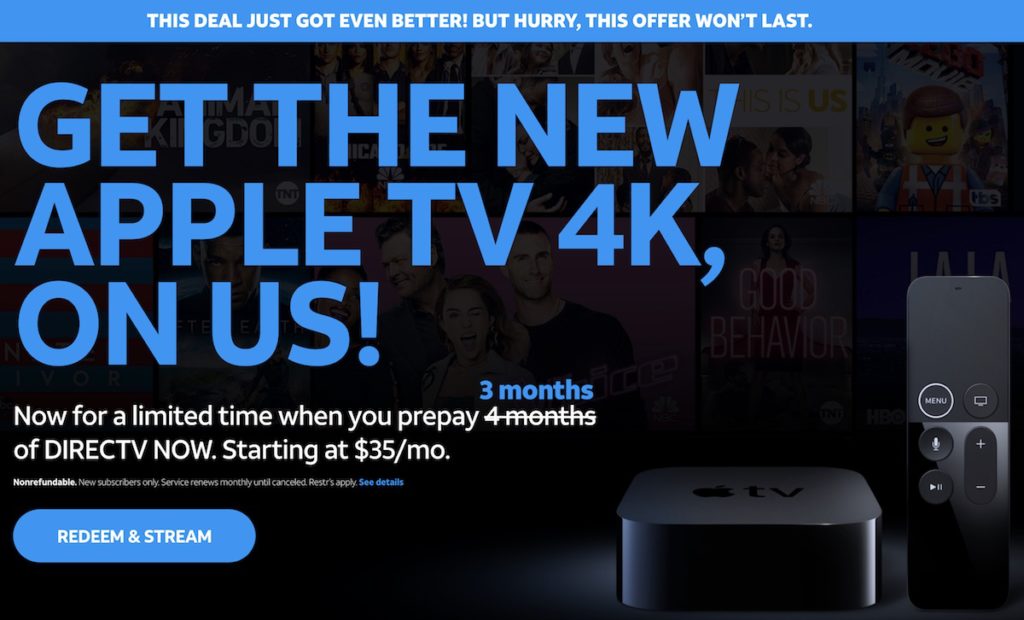 AppleTV 4K features and fine print
The 5th generation AppleTV, which supports UHD/4K and high dynamic range (HDR) content, retails for $179.99, making this a huge bargain and one of the best promotional offers we've ever seen for an AppleTV. Of course, The AppleTV 4K will enable you to download the DirectTV Now app but also all the other great media and entertainment apps like Netflix, Hulu, and Amazon Prime. It's ironic (but shouldn't be surprising) that the DirectTV Now service doesn't yet support 4K content because most terrestrial broadcasts and cable channels are still broadcasting at good old HD 1080p or 1080i.
Always read the fine-print but at first glance there's no obligation or long-term contract so if you don't like the the DirectTV Now service, you can cancel anytime and keep the AppleTV.
MacRumors point out the following:
4K Apple TV (32 GB): Must prepay first three months of service at full price. Online orders will be shipped via FedEx ground to address provided. Allow 2-3 weeks for delivery. Offer limited to 1 per DIRECTV NOW account; 2 per shipping address. Not combinable with select offers. 4K HD not available with DIRECTV NOW.
In case you're wondering, we aren't just covering this deal. We took advantage of it and are going to test it out as part of an updated, wider coverage we are doing on cutting Cable TV. Be sure to be on the look out for our forthcoming coverage.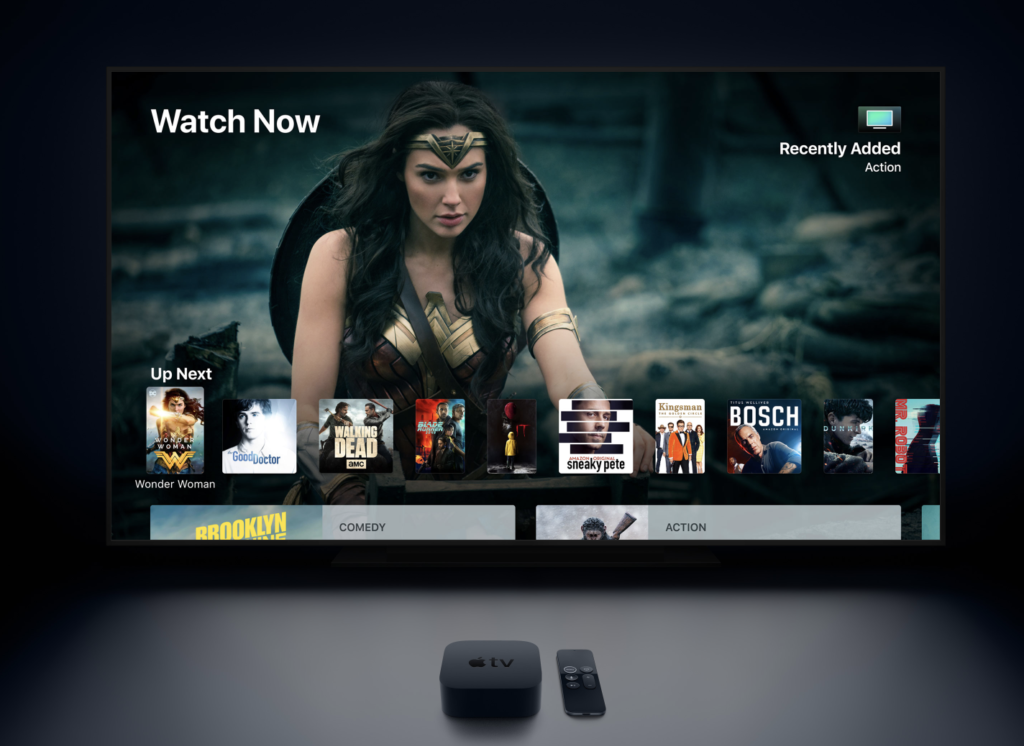 Why the AppleTV deal is exciting
What's exciting about this deal from an audio perspective is that the AppleTV will support Apple's forthcoming AirPlay2 technology. Though AirPlay has been around since 2010, it hasn't had a serious technology update. Competing technologies such as Sonos, Heos, and MusicCast have come on the scene. Unless you have Heos or MusicCast built-in to your AVR, you typically need to spend $250 or more to add such streaming technologies to your stand alone stereo or AV system. Here's what's significant about adding an AppleTV to your setup:
Whole home, multi-room streaming: AirPlay2 an send audio to several devices with playback synchronized between them or independently with different content playing and different devices.
Price: You can add AirPlay2 to your existing stereo or home theater system for free (if you take advantage of the DirectTV deal) or for under $200 if you buy an AppleTV separately.
Improved buffering: AirPlay2 speakers and devices have better buffering so you can enjoy the audio experience without drops or skips.
Multi-device control: You can control your AirPlay devices from any iOS device—even starting control on one device and then picking things up from another.
HomeKit compatibility: AirPlay2 will bring Apple's home kit and Siri integration
HomePod: AirPlay2 will be compatible with Apple's new HomePod speaker.
AirPlay and Audiophiles
AirPlay hasn't received a lot of love from audiophiles, partly due to the fact that the the original implementation was limited to CD-quality 16-bit/44kHz streaming and higher-res files in supported formats were downsampled. Audiophiles hoping for hi-res support with AirPlay2 are likely to remain disappointed.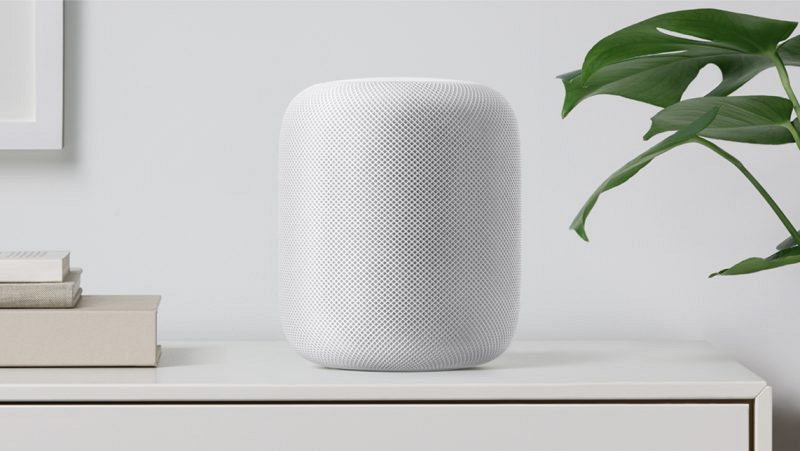 As of now, AirPlay2 won't stream hi-res files like Heos and MusicCast can. We are also pretty sure that Apple won't open up support for FLAC files and only maintain support for AAC, ALAC, and the other file formats supported natively by iTunes.
In summary, if you're looking for an easy way to add AirPlay2, upgrade to 4K/UHD streaming, and/or cut cable connection, there's no better way than Apple's AppleTV. Of all the devices we've tested (Roku, AirTV, etc.) the AppleTV remains the most polished device of the bunch with the best interface and user experience. The DirectTV Now deal makes adding an AppleTV 4K to your setup a no-brainer.