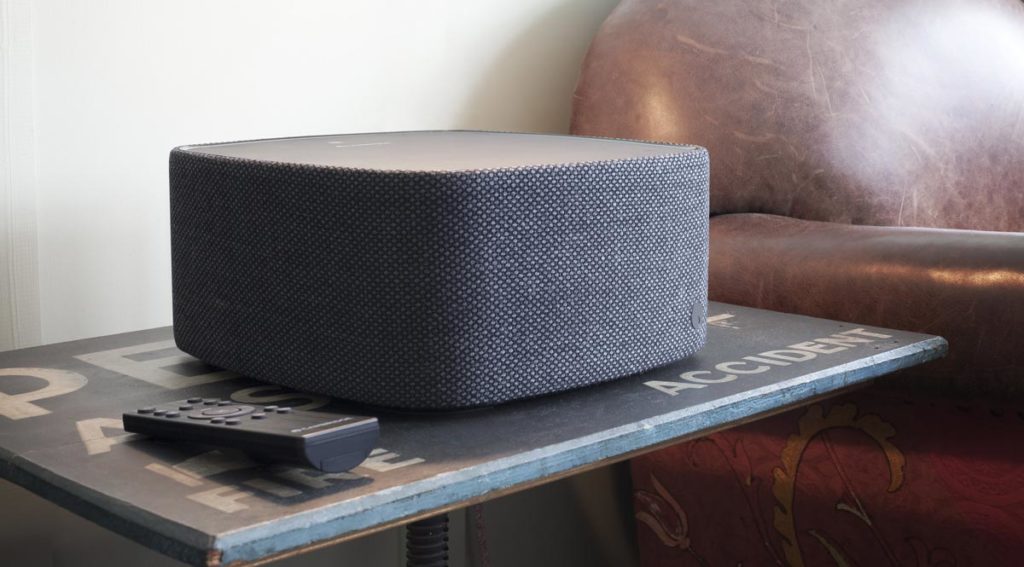 British audiophile company, Cambridge Audio, has outdone themselves with the elegant, high-tech, and oh-so lush-sounding Yoyo (L) streaming speaker. When Cambridge Audio reached out to me, I hadn't yet had the pleasure of auditioning first-hand their new lineup, which consists of the Yoyo (S), a $179.99 portable Bluetooth speaker; the $349 Yoyo (M) portable stereo Bluetooth speakers; and the $399.99 Yoyo (L)—the focus of this review—which is billed as an all-in-one home audio system.
Believe the hype, the Yoyo (L) rocks. High tech features and sweet sound make Cambridge Audio's Yoyo an instant audiophile favorite.
It's just jumped to the top of our streaming speaker favorite's list. Read on to see why.
British Style and Design
Do judge this speaker by its cover. The Yoyo (L) is drop dead gorgeous. It starts with the svelte, rounded-edge design in a compact 10.59-inch x 4.92-inch x 10.59-inch footprint. The unit's top features buttons for commonly used commands.
Unboxing the Yoyo (L) was a pleasure. It comes beautifully packaged with clear, easy-to-understand visual instructions—including how to connect the Yoyo to your television (I'll get into that more further down).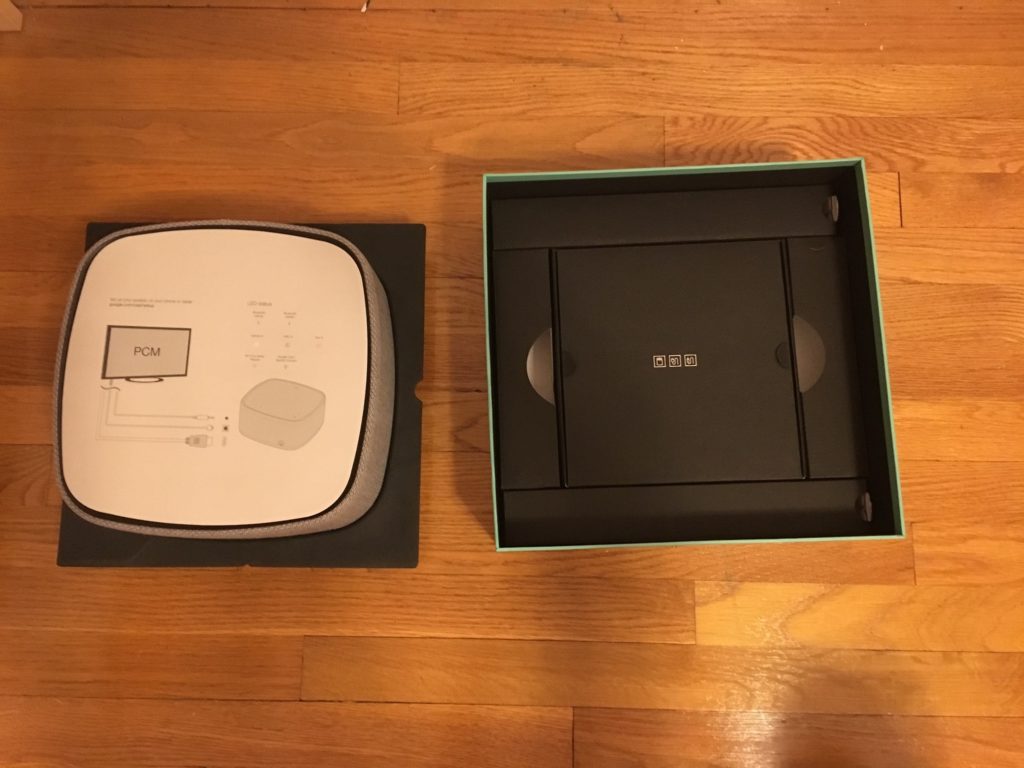 While most streaming speakers use plastic or who knows what cheap material, Cambridge Audio pampers you by wrapping the Yoyo (L) with acoustically transparent fabric. Cambridge Audio calls it Nanosphere treated acoustic wool.
The 100% worsted wool fabric harkens from world-renowned Yorkshire weavers Marton Mills. Marton Mills have been crafting fine-quality fabrics since 1931. That's British styling to complement British sound. You have your choice of Dark Grey or Light Gray options.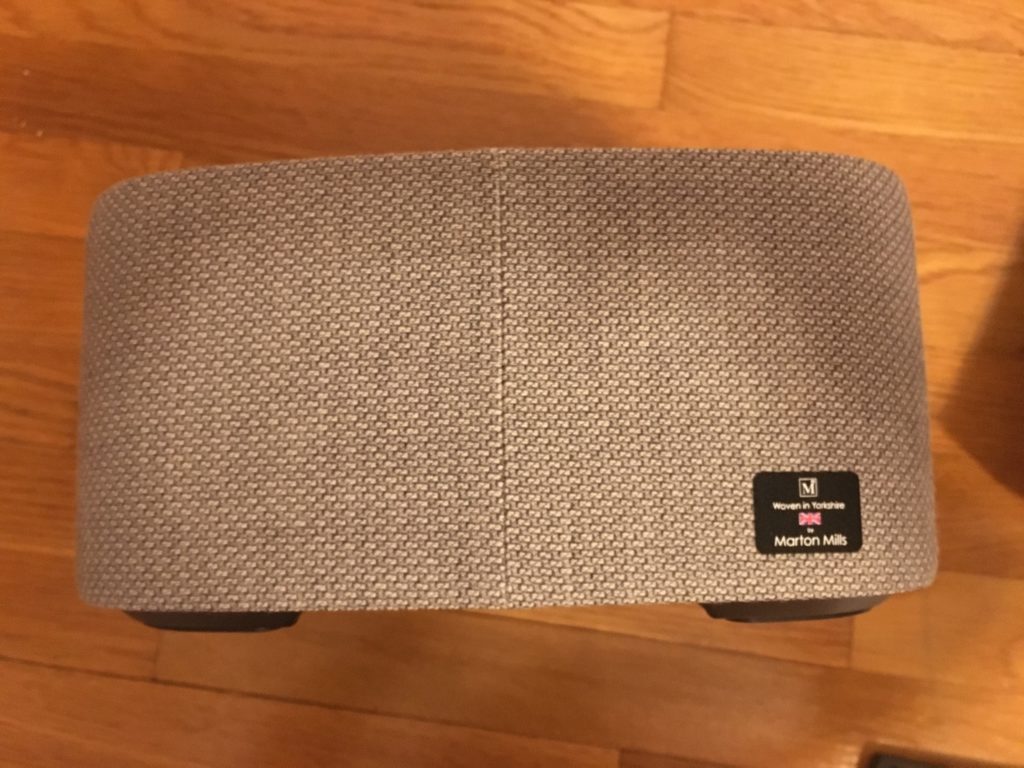 The Yoyo-L delivers an uncanny-good sound thanks to its driver design and arrangement. Unlike the competition, there are front and side mounted full range drivers and subs for a total of six speakers. The drivers deliver a smooth, dynamic, room-filling sound. The mid and upper bass is uncanny for the Cambridge Audio's size. From another room, my audiophile senses told me that there was no way that this moderate-footprint speaker could be delivering such clean, satisfying bass. But it was.
And the fun doesn't stop there. You can customize the speaker's sound with four pre-set EQ settings: Movie, music, TV and Voice. You can also fine-tune the bass on-demand from the included remote.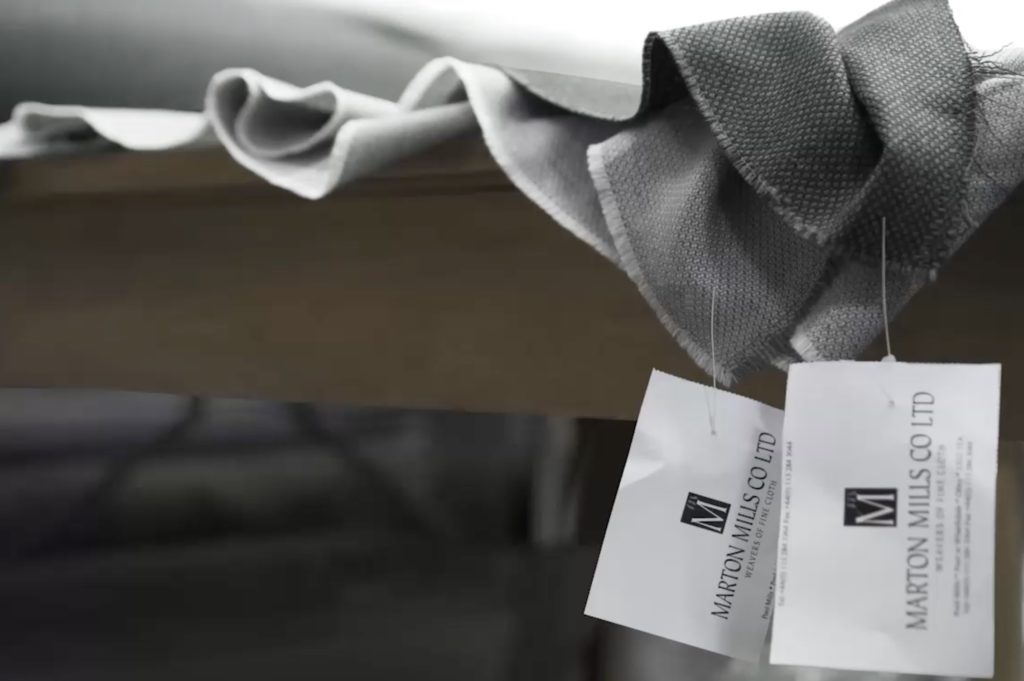 Speaking of which, it is so refreshing to test a streaming speaker with a well-designed, well thought out remote. Every option you'd want is immediately available at your fingertips. From volume to EQ pre-sets, to Spotify Playlists, to you name it. I never felt forced to turn to a mobile app or short changed for using the physical remote. The remote can also learn your TV's volume commands if you want to use it as a sound bar or TV speaker. The only thing you can't do with the included remote (oddly enough) or the top buttons is play/pause, advance, or rewind a song. You'll need to control those functions through your source.
A plethora of inputs
Speaking of TV, the Yoyo (L) is one of the few streaming speakers on the market that has an HDMI input to accompany its already-rich source options such as S/PDIF Optical (Toslink), 3.5mm aux, S/PDIF, and Bluetooth. That Cambridge Audio included an HDMI input is highly unusual.  That inclusion emphasizes the Yoyo (L)'s flexibility and value. Moreover, the HDMI port is ARC (audio return channel) compatible so it can take audio coming from your TV and send it back to the Yoyo. To make things even easier for you, Cambridge Audio includes an HDMI, S/PDIF optical, and 3.5mm cable in the box.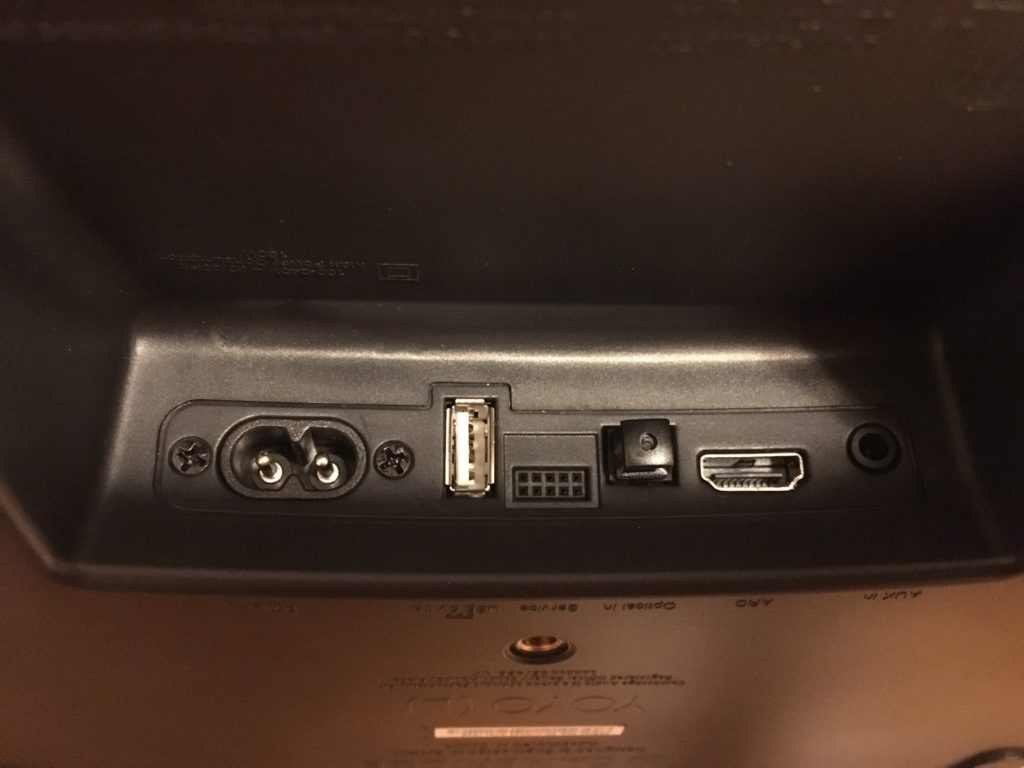 The USB port on the Yoyo's rear isn't an input. Instead, it's a brilliantly-added charging port for your smart device! You can charge your smart device right from the Yoyo without ever worrying that your music will run out. It's a perfect solution if you have the Yoyo in your bedroom. You now have a speaker and charging port in one.
The bottom of this Cambridge Audio wonder features a threaded hole, which means you can mount the Yoyo on any threaded stand. That provides lots of aesthetic options and experiments you can do to make the Yoyo a signature feature in your decor.
Also along the bottom, you'll notice generous rubber pads that will both hold the Yoyo firmly in place while also preventing it from marring any delicate surface.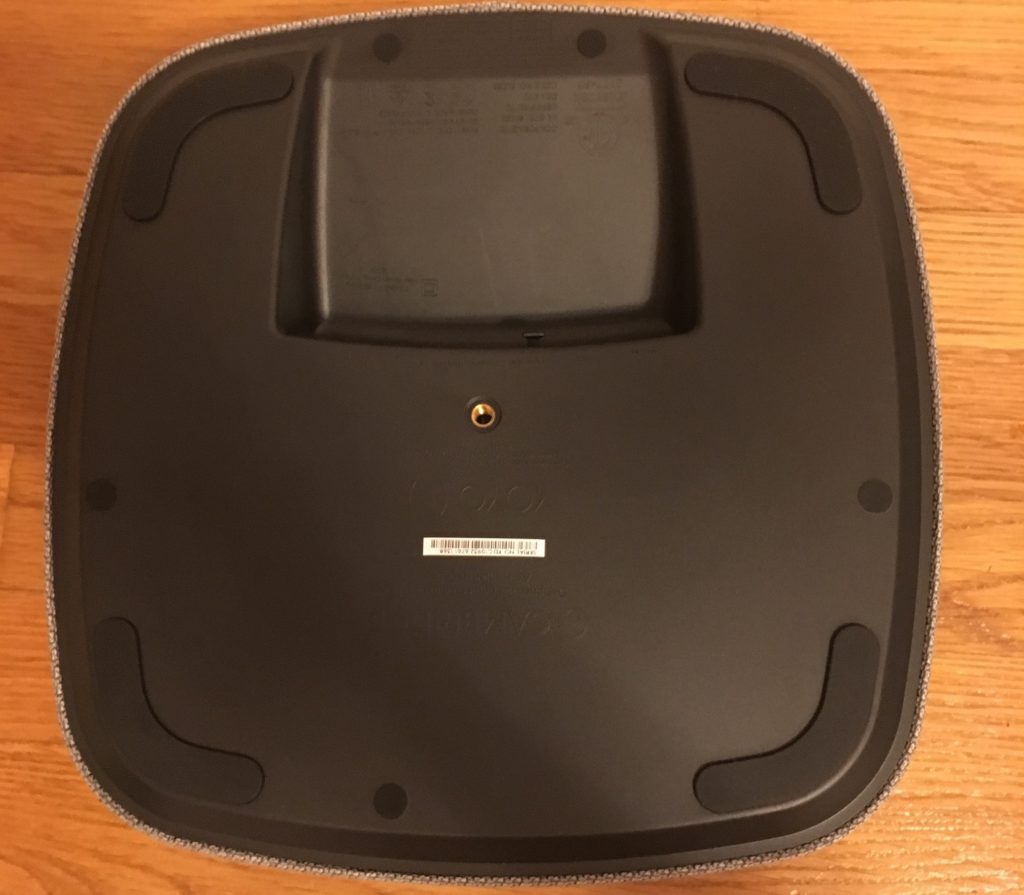 High tech under the hood
The tech under the hood is outstanding. For robust streaming, the Cambridge Audio Yoyo (L) supports Wi-Fi and Bluetooth. Pairing with Bluetooth is even easier with NFC pairing. A simple tap with an NFC-compatible device and you're done.
Spotify Connect is on board. Spotify Connect allows the Yoyo to communicate with and stream music directly from Spotify instead of relying on your phone to do the streaming. You won't need to worry about a phone call or other smart-device-based activity interrupting your music. Cambridge Audio takes Spotify integration one step further. From the Yoyo's top console and from the remote, I could easily call up to three pre-defined Spotify playlists at the literal touch of a button.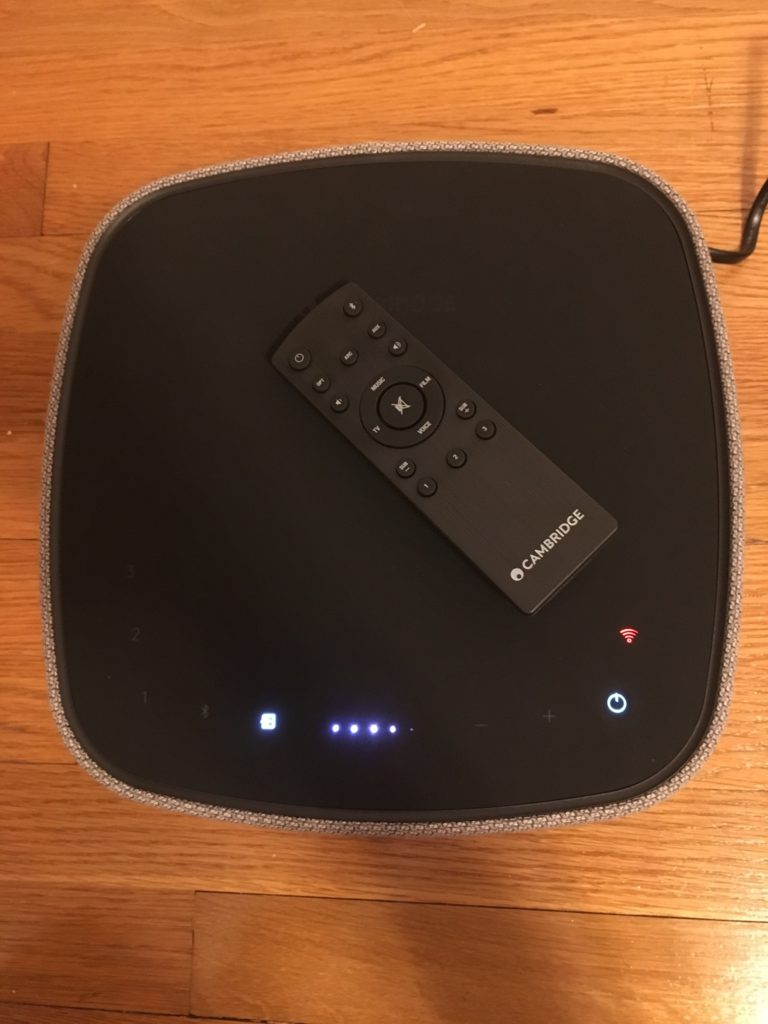 If you're a subscriber to other streaming services, you'll need to rely on Bluetooth or, the real gem, Chromecast. Yoyo (L) comes standard with Chromecast, giving you the range and stability of Wi-Fi to stream your music. Chromecast brings multi-room streaming to your fingertips. If you have another Yoyo (L) or Chromecast compatible speaker, you can group them together, stream different music to each end point, and build out a whole-home streaming solution.
There are hundreds of apps compatible with Chromecast for iOS and Android. If you're a Tidal user, as I am, you can pull up the Yoyo (L) from within your Tidal app and stream directly to the Yoyo via Chromecast.
And things get even better. If you have Roon music server you can now add the Yoyo to as a Roon speaker and create a wireless, whole-home music solution with the Yoyo. The latest update to Roon, which came during my review period, now supports Chromecast. I tested the Yoyo with Roon and it was a flawless, thoroughly enjoyable experience.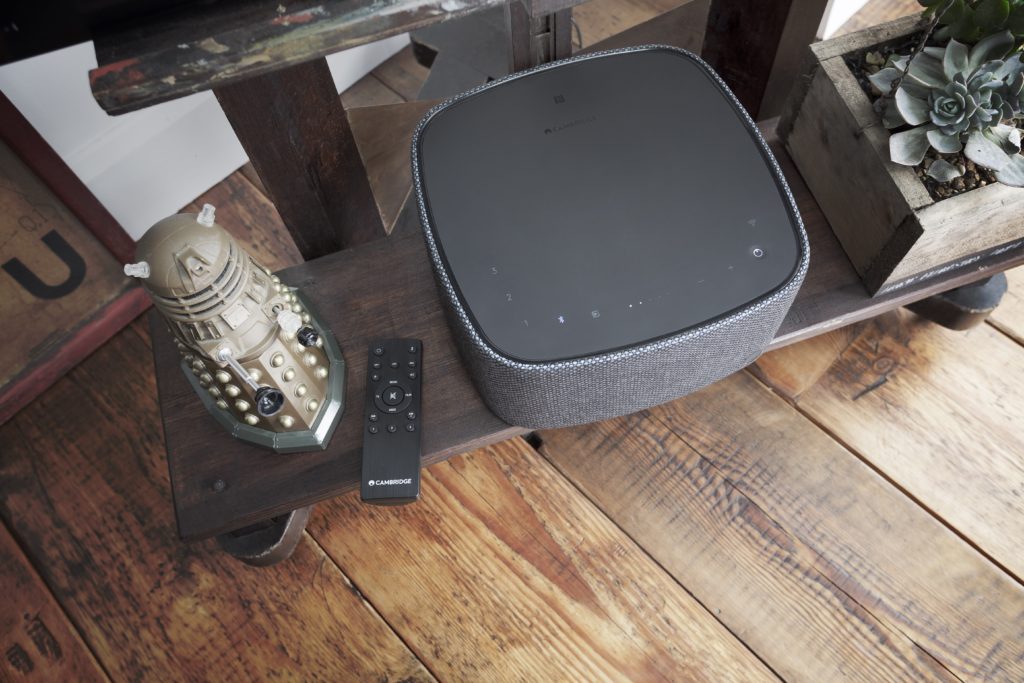 As you'd expect, you can rename the Yoyo to any custom name that you want to reflect the room it's located in or some other designation.
The only shortcoming to the Yoyo in my book is the absence of Apple AirPlay 2. AirPlay 2 would have been the icing on the cake and a simple way for Mac-based and iTunes-based users to adopt the Yoyo within their ecosystem.
The joy of listening
My first experience with the Yoyo was unique. One evening, I hear this tight, impactful bass coming from another room. My reference system wasn't on. The sound was far too refined to be one of the many portable speakers in our household. I asked "Who's playing the music?" One of my kids responded, "It's me. I hope you don't mind, I saw that cool-looking speaker and set it up. It's great isn't it?" How could I argue with that? While overjoyed to pass on audiophile passion to the next generation, I was decidedly stunned by how audiophile-good the Yoyo (L) sounded.
Midbass and upper bass notes were authoritative and articulate with excellent SPL levels. More than that, those lines danced with life. There was a seductive dynamism to the Yoyo's musical reproduction.
The Yoyo (L) did a very respectable job on Holly Cole's "Train Song," a locus classicus of audiophile bass tracks. But you didn't need a song with deep bass to appreciate what this speaker could do. This speaker's engaging musicality was evident in every-day classics like Peter Gabriel's "Solsbury Hill" or Paul Simon's "Graceland."
I loved the beautiful warmth the Yoyo (L) brought to Diana Krall's "The Look of Love." Ms. Krall's vocals exhibited sweet timbral accuracy. Of special note, the piano solo was full-bodied, not tinny and thin like lesser speakers will produce.
Imaging, while not quite two-channel caliber, was far better than your all-in-one speaker. Most notably, the Yoyo delivered rich, lush, room-filling sound. No matter where I stood or moved in the room, the music was always engaging.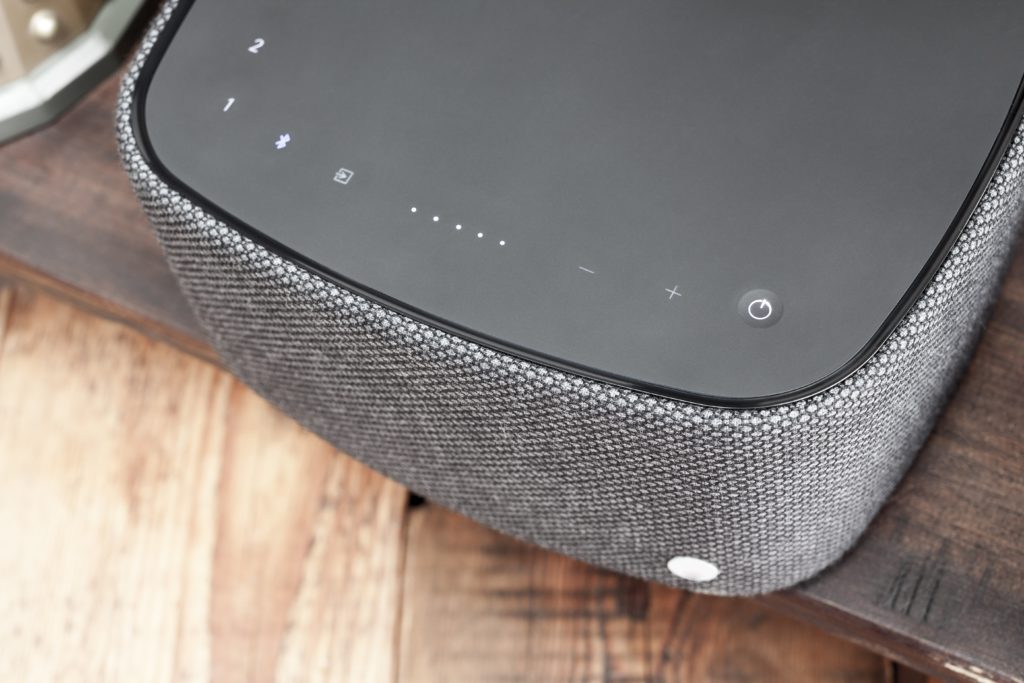 But don't mistake this as a dainty speaker. It's British sound after all. Should you need it, this British speaker won't have any trouble delivering some rock-n-roll. The Yoyo relished blasting out Guns-n-Roses "Welcome to the Jungle" and Pearl Jam's "Black." And if you're in the mood to play a rock anthem, like U2's "Beautiful Day," you won't be disappointed.
A seductive British siren
The Yoyo's box proclaims it has British sound. It's more like a beautiful, British sonic invasion. The Yoyo's sound is a seductive British siren. I simply couldn't resist its call. In very short order I fell in love with the Yoyo (L). It marries a meticulously engineered and beautifully designed streaming speaker with the best of today's high tech. The absence of AirPlay 2 is disappointing but doesn't knock the Yoyo's outstanding value proposition. In fact, the unusual (but welcomed) inclusion of an HDMI port with ARC makes the Yoyo a highly versatile speaker that can serve as the centerpiece of your room or entertainment space.
So, how much do I like the Yoyo? Let me put it this way: My kids have already commandeered the review unit. They aren't allowing me to send it back. Now, I need to get another one for myself to enjoy. Highly and enthusiastically recommended.