Canada has long served as a fertile ground for audio.  From the acclaimed National Resource Council and its contribution to audio to many of the audiophile industry's well-known brands, Canada has long been synonymous with serious audio.  Therefore, when the opportunity arose to review a pair of Canadian-based Fluance's flagship floor standing loudspeakers, the XL7F, I couldn't resist.
Fluance has been around since 1999 and is based in Niagra Falls, Ontario.  It's manufacturing is done in China.  The company's name derives from two latin words.  The prefix "Flu" for "flowing" or "wave" and the suffix "ance" means "a state of being."  Together, the name "Fluance" conveys what the company feels accurately describes its products.
Fluance sells direct to consumer, although you can find their speakers through online resellers including Amazon, Newegg, and BestBuy in Canada, among others.  If you order directly from Fluance, you get a no-hassle 30-day in home trial.  With audio dealers becoming harder to find these days, that's a good thing.  You can order the speakers, try them in your home for 30 days.  If you don't like them for whatever reason, they will pay return shipping.  Something that is very unusual is that all Fluance speakers come with a lifetime warranty.  That's right, a lifetime warranty.  I had to do a triple-take myself on that.  While most audio companies will give you something in the range of about 3-5 years, Fluance completely breaks the mold on that.  I tip my hat to their commitment to the consumer.
Specifications
The Fluance XL7F speakers are a three-way, four-driver, rear-ported, floor standing model.  The tweeter and two midrange woofers are arranged in an MTM design.  The tweeter is a 1 inch neodymium balanced silk dome that is ferrofluid cooled. The two midrange woofers are 6.5 inch with polymer treated butyl rubber surrounds.  There is a down-firing eight inch polymer treated high excursion woofer that is located under the speaker.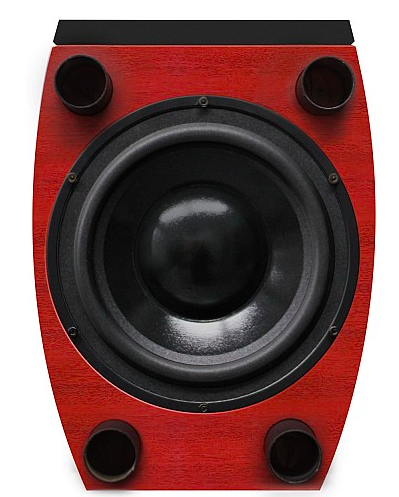 Detail of the down-firing 8 woofer located at the bottom of the speaker.
The solid base of the speaker has been remove for this photo.
The XL7Fs are relatively easy to drive at 89dB sensitivity with impedance that varies between 4 and 8 Ohms.  The Frequency response of the XL7Fs is rated at 45Hz – 20KHz.  Each speaker weighs in at a modest 45.2 lbs.
Arrival and Unboxing
My XL7F speakers arrived via UPS.  Thankfully, no special freight delivery was required.  While the boxes were large, the aforementioned modest weight of each speaker made it manageable to bring them into my listening area.  Some audiophiles are dogmatic when it comes to receiving speakers that are consecutively numbered.  If you're one of those hard-core audiophiles, then you'll rest easy knowing that Fluance pays attention to such details and sent me a consecutively-numbered set.
There was some distress on the boxes. One of the boxes had a large gash.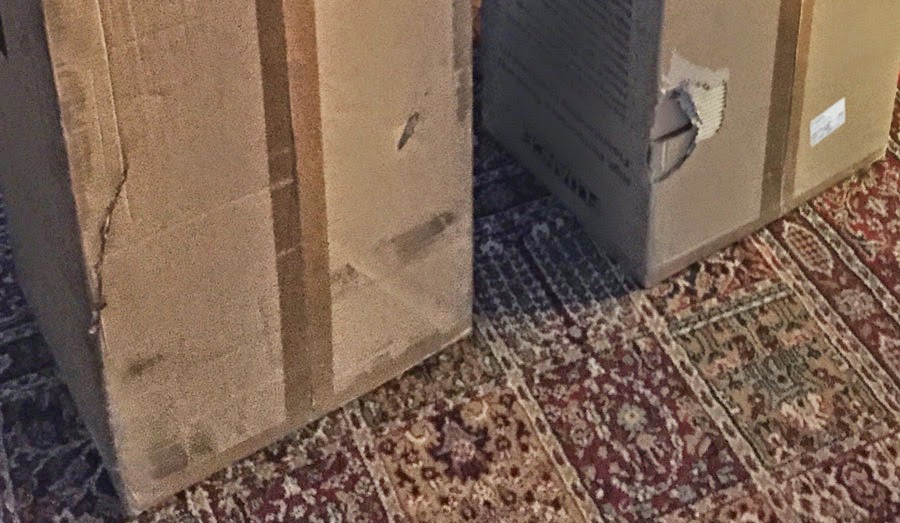 Such distress is sadly typical when I receive components in for review.  Thankfully, the XL7Fs are well packaged. They are double-boxed and have ample styrofoam packaging.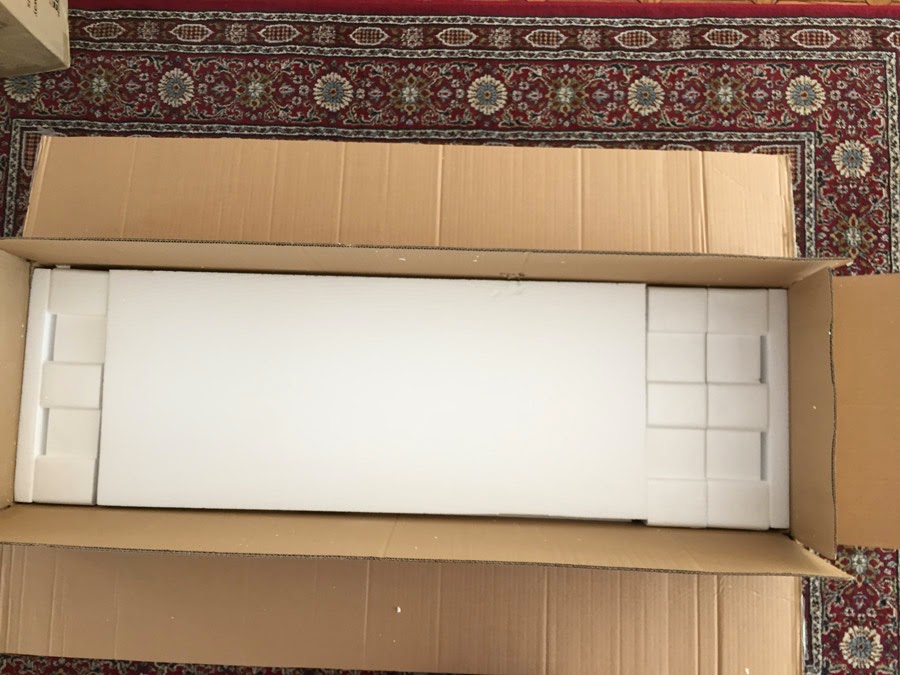 There was no penetration whatsoever and the speakers were in pristine condition.  To unbox, I recommend opening the flaps all the way and then carefully turning the box on the open side so that you can just lift the box up. The speaker will then be exposed in its plastic as you see in the photo below.
You can then remove the styrofoam at the top and foot of the speaker and loosen the plastic.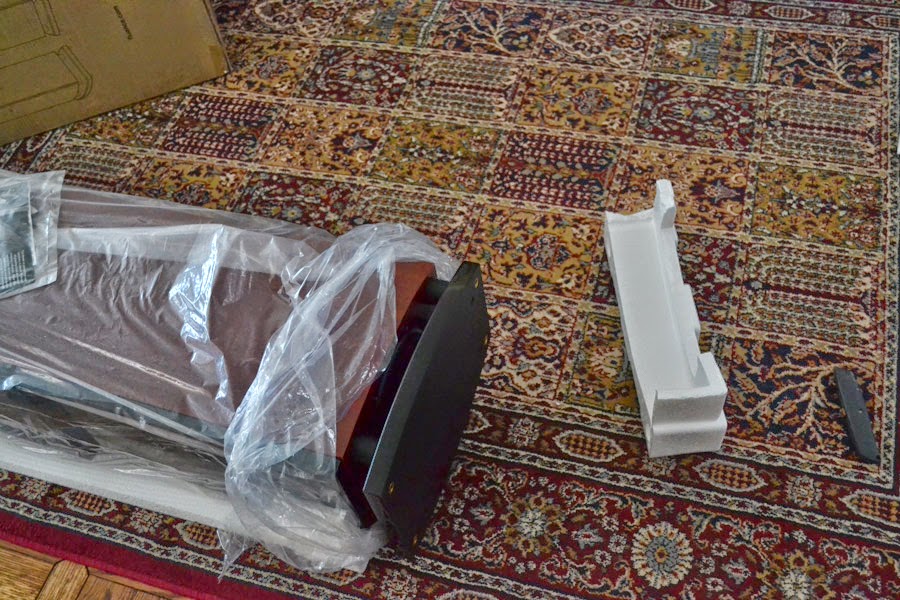 Once the plastic has been loosened, you can if the speaker upright and then remove the plastic completely.
Unpackaged, the Fluance XL7F looks slick and well-constructed.  I wrapped my knuckles on the speaker's cabinet to see how it would fare.  It had a very hollow sound compared to more expensive speakers with extensive internal bracing.  I've asked Fluance for more details about the cabinet construction.
My review set came in the mahogany finish.  From what I can tell, it's an iron-on, polished veneer.  The veneer is well applied and all corners are cut to pristine exactitude.  I didn't notice any sloppiness in the assembly of the cabinetry—a real plus.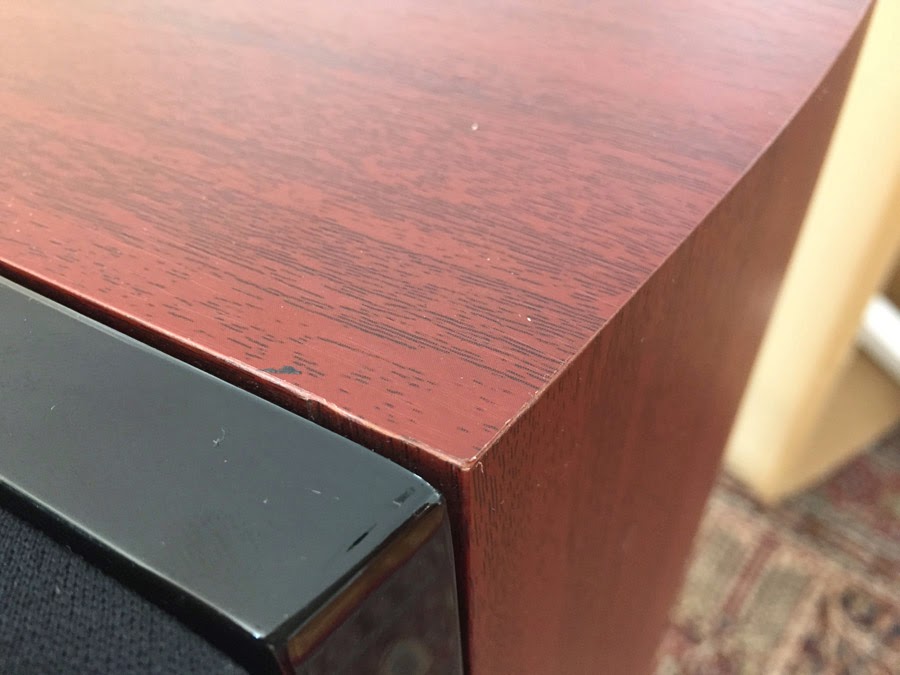 Detail of the front baffle and mahogany wood veneer showed excellent attention to construction detail.
I found the veneer surprisingly difficult to photograph.  In some photos it would come out too light or too red. In fact, when I compared the actual speaker and my photos to the Fluance web site, I found that the Fluance web site didn't do a good job of accurately conveying the color of the wood veneer.  If you want a better feel for how the speaker's color really looks, then trust my photos.  The real speaker is much nicer and more subtle in hue than the Fluance web site shows.  To me, the color is more traditional and richer in person.
I was very surprised to see some of the Fluance XL7F's features.  First of all, you can add spikes to the XL7F.  The bottom of each speaker has large threads and comes with very nice spikes that you can add to the speakers either to level or dampen vibrations.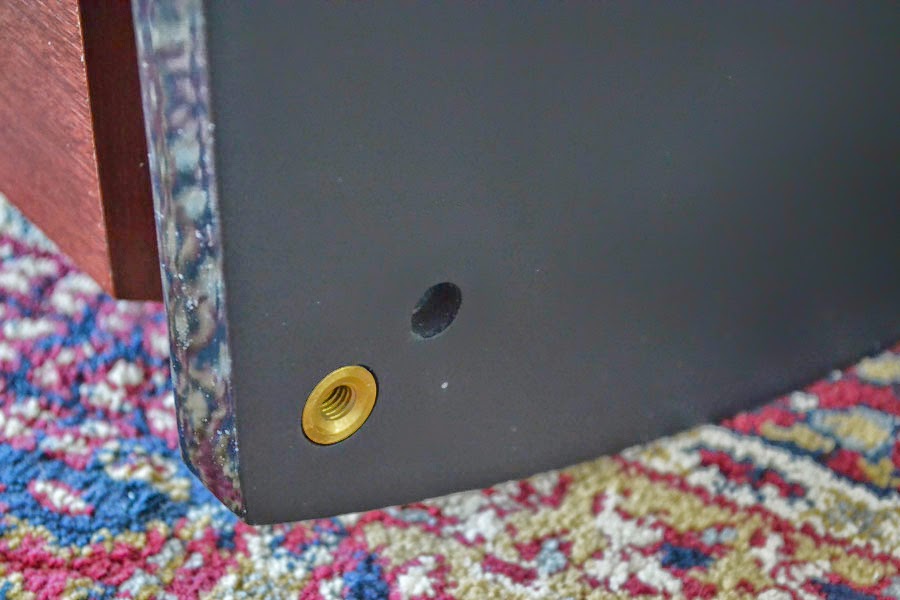 The bottom of the XL7Fs feature threads for floor spikes.
Some budget speakers omit this option or come with cheap plastic spikes—not the Fulance XL7Fs.  These are copper isolation spikes and have significant heft and quality weight to them.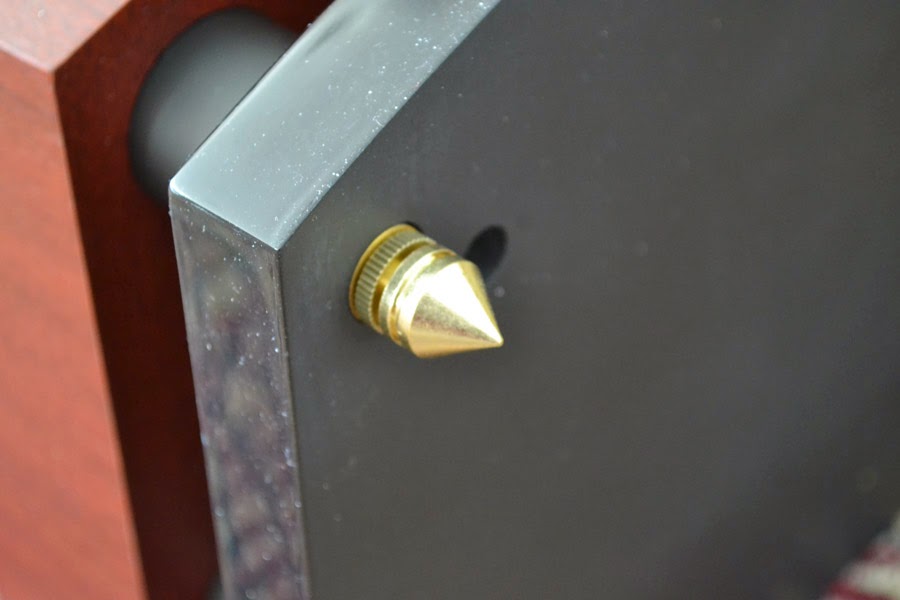 Detail of the included copper spikes.
I was very surprised to see double-binding posts on the XL7Fs.  The five-way design will accommodate both banana, spade, and raw speaker cable.  The posts are located just below the half-point of the speaker.  There's a metal jumper bar that joins the double-posts if you don't want to biwire them.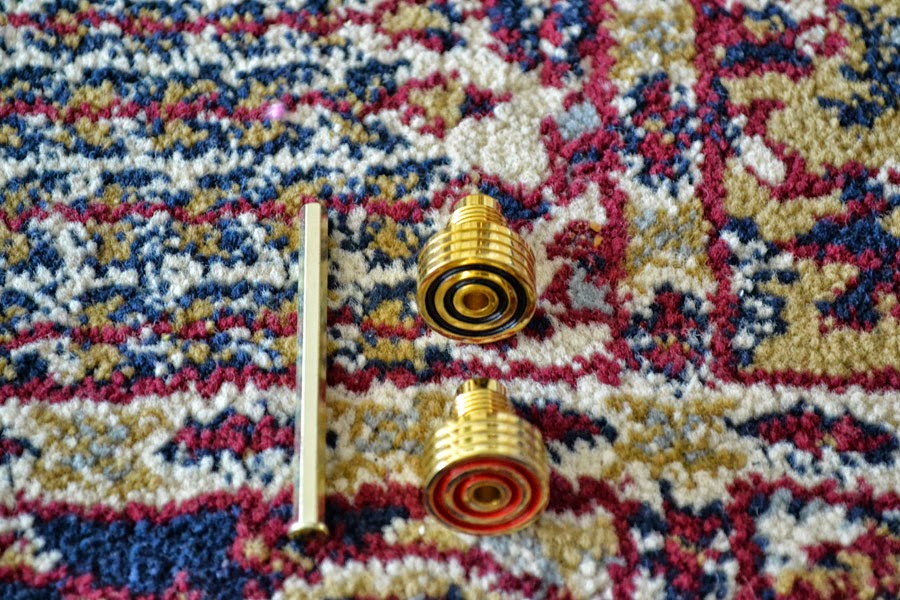 Detail of the Binding posts and included jumper bar.
I was pleasantly surprised — if not shocked to see superb design elements on a speaker at this price point.  Most speakers in this $500 range will be simple boxes.  Not the Fluance XL7F.  They have an elegant curator to the design that eliminates parallel internal walls in the speaker's cabinet.  This is a design feature you'll find on much more expensive speakers—not budget-oriented models.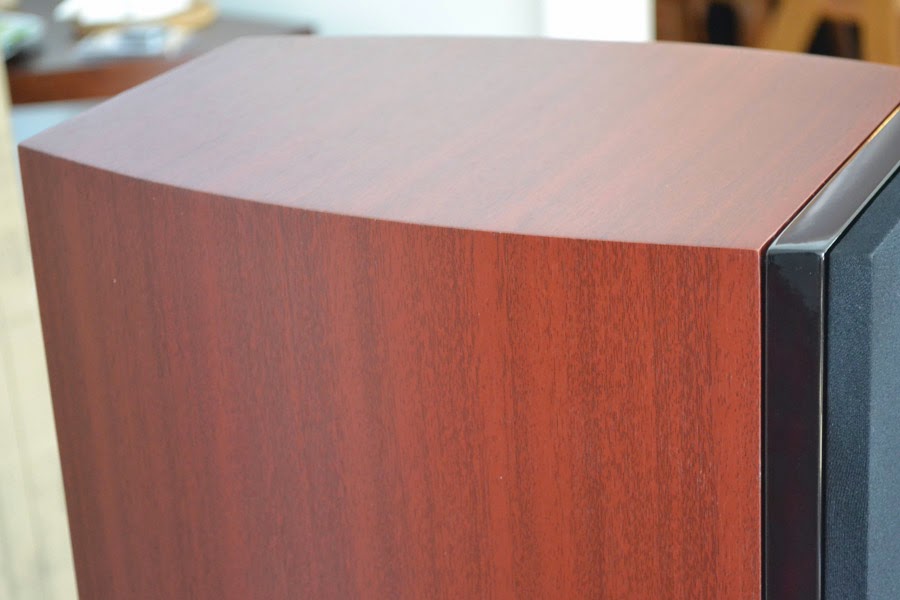 The beautiful aesthetic curves of the speaker also eliminate parallel walls and reduce cabinet-induced issues.
The front baffle is finished in a lovely high-gloss piano black.  The finish is very well done and near mirror-like in it's finish.  I found this to be a superb design choice as it makes the floor standing speaker visually seem like it takes up a smaller footprint.
The front grille has a high degree of transparency and is attached with a peg-system. What was really surprising to me—and again showed attention to detail—was that the grille didn't have any plastic pegs.  I've seen speakers costing $2,000 or more that still had plastic pegs for the grille.  Fluance's solution is ingenious.
The front speaker grille is attached using the metal bolts on the front baffle.  Therefore, there's no likelihood that you're going to break off the plastic pegs and be left with a useless grille.  I want to applaud Fluance for paying keen attention to details such as this.  It shows that you can have a budget speaker without the speaker being cheaply designed.
The front drivers consist of an MTM (midrange, tweeter, midrange) design.  The tweeter is a silk-dome tweeter.  I found construction and assembly to be top notch.
All in all, I was very impressed with the design and construction of the Fluance XL7F.  This is my first experience with any speakers from the Canadian company whose motto is "Fluance speakers sound better because they are built better."  For $499.99, these may be a real winner of a speaker if they produce great sound.  All I can say is so far, so good.
Stay tuned for our full review of the Fluance XL7F Floor-standing loudspeakers.