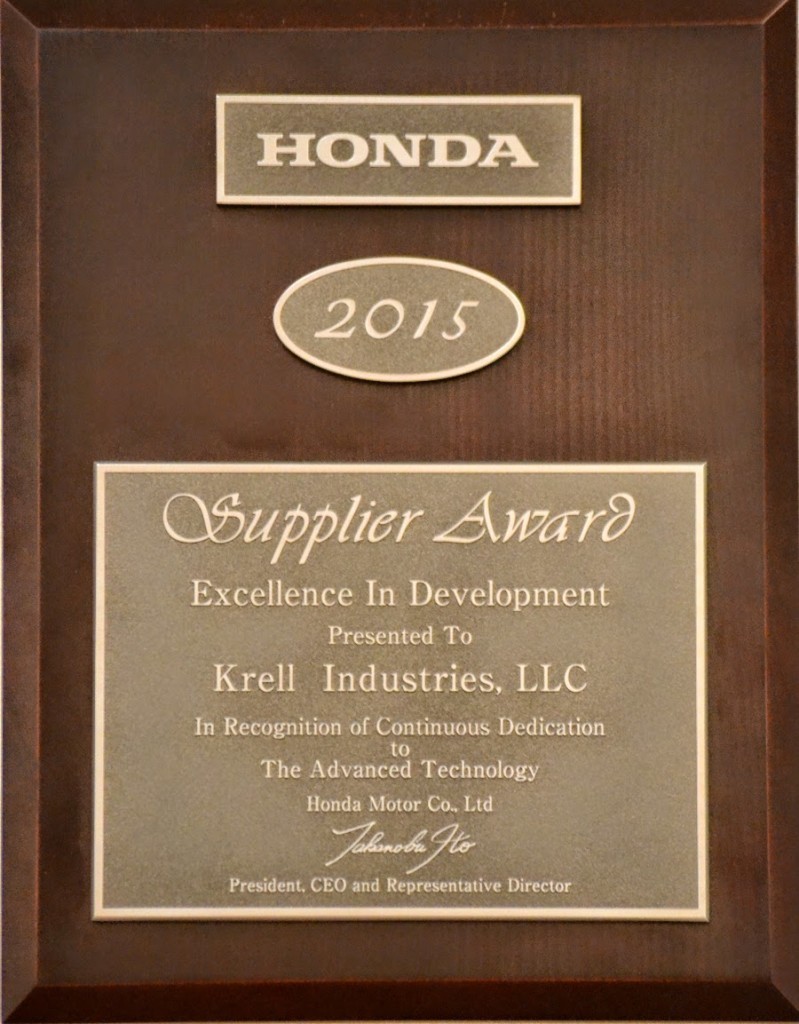 In a recent post, we talked about the future of high end audio in automobiles.  Two of high end audio's venerable brands, Krell and Revel, forged partnerships to bring their high end audio expertise to Acura and Lincoln respectively.
Krell recently announced that they received the 2015 Excellence in Development Award in recognition of their design and acoustic tuning work on the Acura RLX and its sister vehicle, the Honda Legend.  The award is one of only fifteen awards that Honda Motors presents to their top suppliers.  There were over 1,000 eligible companies.  According to Krell, the award recognizes partners who "embrace Honda's philosophy of exceeding customer expectations with exceptional quality and service."  The award was presented personally by Honda Motors President & CEO, Takanobu Ito, in a special ceremony and reception at the Hotel New Otani in Tokyo, Japan.
Awards like this are an honor.  In the case of this Excellence in Development Award, it's an incredible honor and distinction for Krell from one on the top auto manufacturers in the world.  While awards are a solid recognition for companies, they oftentimes aren't necessarily news-worthy.
Aside from the obvious prestige of this Honda award, there's another element that struck me about this award that I felt important to note.  This is an award from the car industry to the audiophile industry.  Repeat that sentence and think about the implications.  To put it another way, audiophiles have rarely—if ever—considered the automobile a domain for high end audio and the auto industry has certainly kept any sense of high end audio out of the conversation in their products.
This award therefore recognizes something that we in the audiophile hobby have always known: high end companies tend to be passionate about their products, their technology and they have a real audible benefit to offer.  When given the chance, as this Honda-Krell partnership  shows, they'll showcase what audiophile sound can do.  From that perspective, I think that this auto-industry award, given to a high-end audio company validates the audiophile hobby.  It validates the real quality difference that good sound can make.  Hopefully, such recognition will herald even more successful partnerships between the automotive industry and audiophile companies.
Let's be frank, in the end, it's not only consumers who will benefit, but from the precedent of this award, it's obvious that the the automotive and audio industries can mutually benefit as well.  Our congratulations to Krell and hopefully this is the first of many more such awards to the audio brands working with auto companies.  Here's to seeing more and more high end audio in our automotive technology.