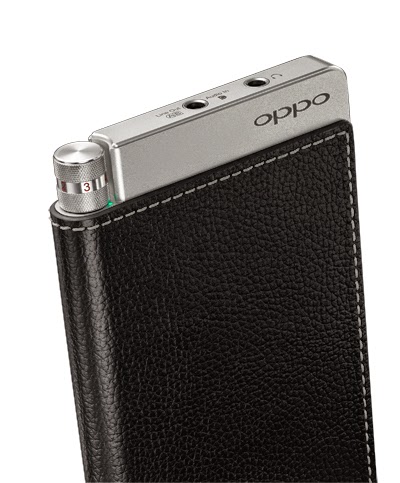 Oppo Digital first became coveted by audiophiles and videophiles alike with their award-winning and ground-breaking DVD and Blu-ray players.  Last year, the company entered new ground with the release of their planar magnetic headphones and headphone amplifier.  Now, the company has gone one step further by releasing the HA-2, a portable headphone amplifier and high-resolution DAC.
Oppo says that the HA-2 is engineered to enhance music playback from mobile phones and music players.  One way that the HA-2 has the potential to enhance the mobile listening experience is via it's high gain mode. In this mode, the HA-2 will deliver up to 200mW into 16-Ohm headphones, which will make the HA-2 able to drive large, power-hungry headphones that die-hard audiophiles have thus far been unable to use with portable devices.  The HA-2 also has a low gain mode to drive traditional, in-ear headphones.  Users can take advantage of the HA-2's two stage volume control to dial in the output volume desired and address any volume issues between using in-ear or full-sized headphones.
Oppo says that by mapping the USB volume control commands to the internal Sabre DAC chip's internal volume control, users can adjust the signal volume using the playback app or software without losing audio resolution or causing bit truncation.  That's pretty slick.  Op then took things one step further by providing an analog volume control knob for audio enthusiasts to further adjust the listening level.  While it's something we personally don't like, the HA-2 offers a bass boost option that Oppo says is implemented purely with analog circuits.
The HA-2 is an elegant yet sophisticated portable headphone amplifier with built-in rechargeable battery. It is engineered to enhance music playback from mobile phones and portable music players. Aesthetically, the HA-2 does not look like a typical or generic electronic device. Its genuine leather casing with contrast stitching and beveled aluminum edges are eye-catching and cannot be confused with any other product. Its fit and finish will instill a sense of pride when using the product.
Because the HA-2 is intended to be used in addition to a portable player, Oppo was wise to make the HA-2 slim, slick, and practical.   It weighs only 6.2 oz.  The HA-2 comes in a genuine leather casing with contrast stitching and beveled aluminum edges. Most importantly it doesn't appear to add significant bulk to what you'll already be carrying.  The run for 7 hours when connected with a digital device via USB or 13 hours with an analog source via its audio-in.
The HA-2's internal circuitry features a hybrid class AB amplification and a USB DAC.   The HA-2 offers two USB DAC input ports – one for Apple's iPhone/iPod, and the other for Android devices, PC and Mac computers. A 3.5 mm input works with the remaining portable music players that do not have a USB-compatible digital output

As an added benefit, the HA-2 can be used to charge mobile devices on-the-go.  There's no word as to how much charge it will provide to different phone models.  Oppo designed the HA-2 to support rapid charging and the HA-2 can be efficiently charged in 30 minutes.
Some key features of the HA-2 include:
Ultra-slim Design
ESS Sabre32 Reference DAC – ES9018-K2M DAC chip
High-Resolution Audio support— PCM audio up to 384 kHz / 32-bit, DSD audio up to 12 MHz (DSD256 or DSD4x). No Camera Connection Kit required for high-resolution playback from iOS devices.
Multiple Devices Support –The HA-2 supports multiple device types for digital-to-analog conversion via USB: iPod / iPhone / iPad, smartphones with USB OTG feature, PC and Mac computers.
Rapid Charging – The HA-2's internal battery can be quickly charged in about 30 minutes with the patented rapid charger.
Mobile Power Bank – The HA-2 functions as an external battery pack to charge mobile devices.
The HA-2 is available now in limited supply from OPPO Digital's web site at a retail price of $299.