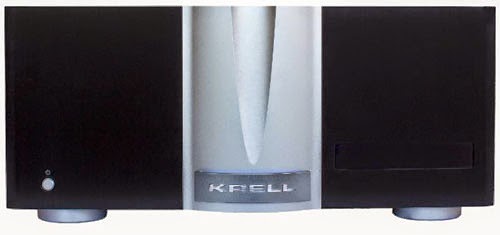 The Krell Duo 125 Stereo Amplifier
Krell has announced that their Duo 125 Stereo power amplifier is now shipping.  The Duo 125 is based on Krell's Class A iBias circuitry. Krell states that their iBias Class A technology allows their amplifiers to run in full Class A mode to full power while minimizing heat generation. Krell claims that previous efforts at using a "tracking" bias, while effective, only measured the incoming signal and set bias levels from this information. Their new patent pending iBias technology significantly elevates the effectiveness of previous designs by calculating bias from the output stage. Krell notes that this seemingly small change in topology results in a dramatic improvement in sound quality, especially midrange richness and purity.
The Krell Duo 125 features 125 watts per channel of power output into 8 Ohms. The Duo 125 will double down to 250watts into 4 ohms. The Duo 125 sports both balanced and unbalanced inputs, an Ethernet port, trigger input and an optional rack mount kit.
The Duo 125 includes an RJ 45 Ethernet connectivity and an internal web page that is accessible from any smartphone, tablet, or laptop. Network connectivity brings convenience, monitoring, and reporting to end users. Amplifier configuration options include display brightness and timeout. For energy conservation, the amplifiers can be programmed to power off at a preset time of inactivity. Individual channels can be muted and firmware updates can be initiated from the built-in web server.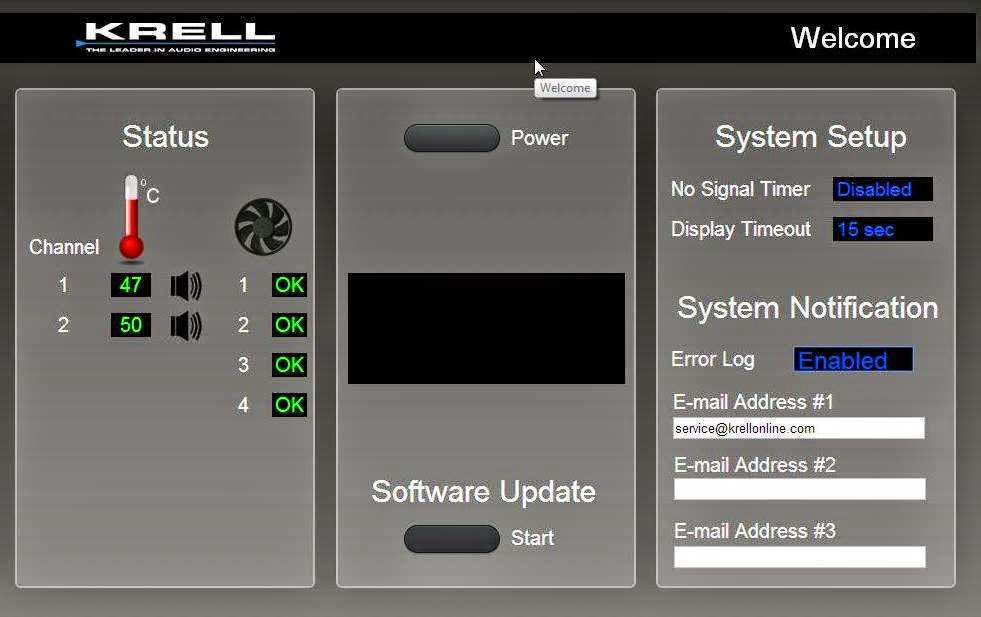 The iBias web server gives you status updates on the Krell amplifier
Krell says that once the amplifier is connected to a network router with Internet access, the amplifier's advanced protection systems can be accessed. Excessive current, output DC, fan speeds, short circuit, and overheating are all monitored in real time. If an issue occurs, the fault is displayed on the front panel and reported on the web server interface. Emails will automatically be sent to as many as three email addresses to notify the end user and/or the dealer of the condition.
Krell's legendary amplification comes usually comes at a price and weight and the Duo 15 is no different. The unit weighs in at 50lbs and retails for $5,500.
Full Specifications for the Duo 125 are as follows:
Frequency response
20 Hz to 20 kHz +0, -0.08 dB
0.5 Hz to 100 kHz +0, -3 dB
Signal-to-noise ratio
>95 dB, wideband, unweighted, referred to full power output
>112 dB, "A"-weighted
Gain
25.8 dB
Total harmonic distortion
Input Impedance
Single-ended: 100 kΩ
Balanced: 200 kΩ
Input sensitivity
Single-ended or balanced: 1.63 V RMS
Output power
125 W RMS at 8 Ω
250 W RMS at 4 Ω
Output voltage
89.4 V peak-to-peak
31.6 V RMS
Output current
18 A peak
Slew rate
40 V/s
Power consumption
Standby: 1 W
Idle: 58 W
Maximum: 1350 W
Heat output
Standby: 3.42 BTU/hr.
Idle: 198 BTU/hr.
Maximum: 4617 BTU/hr.
Inputs
2 single-ended via RCA connector
2 balanced via XLR connector
Outputs
2 pairs binding posts
Dimensions
17.1 in. W x 7.65 in. H x 21.10in. D
434 mm W x 194 mm H x 536mm D
Weight
60 lbs., 27.3 kg (shipping)
50 lbs., 22.7 kg (unit only)