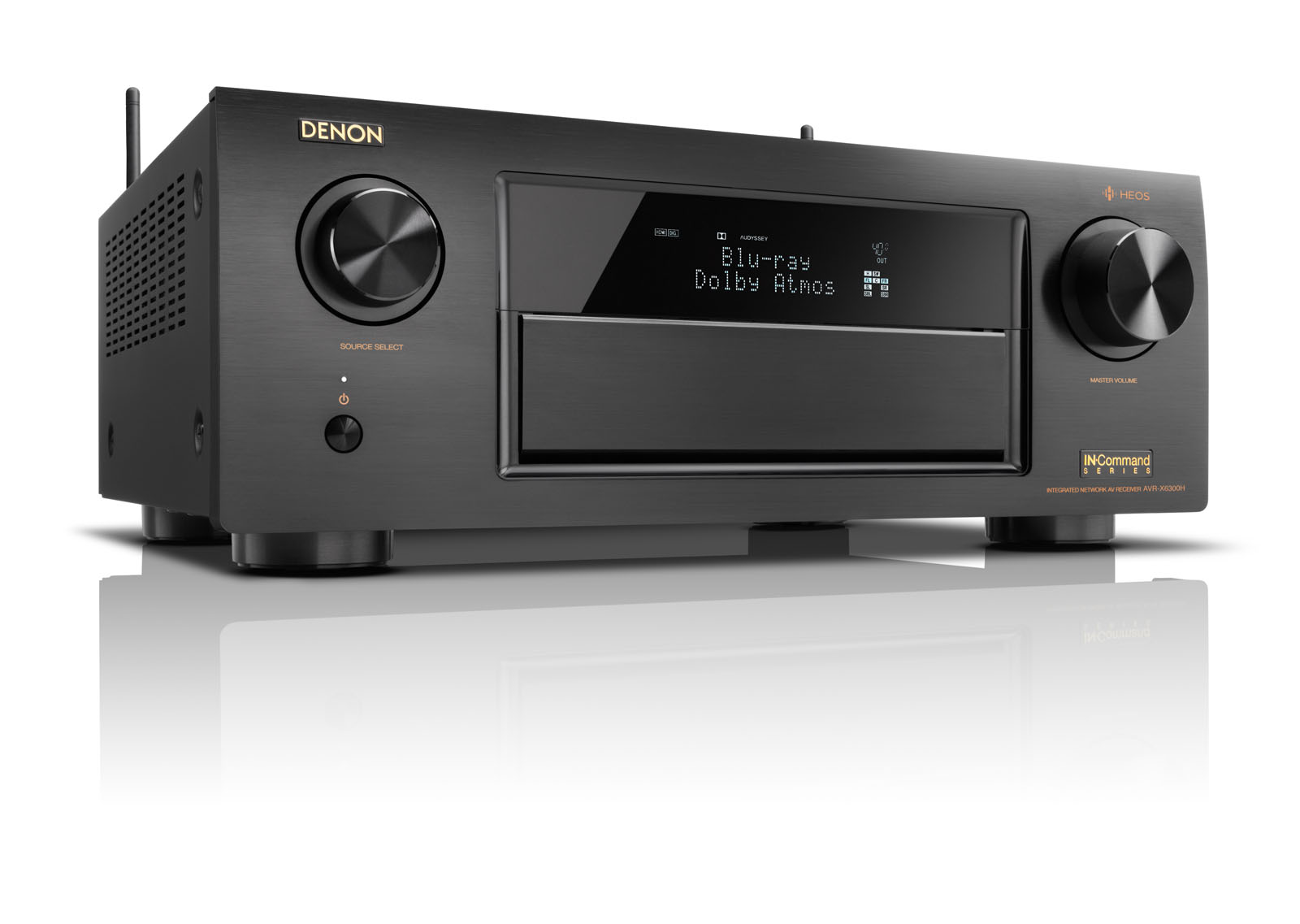 Denon announces the AVR-X6300H and AVR-X4300H as first Network AV Receivers with HEOS technology integration. The AVR-X6300H and AVR-X4300H are expected to be available in October.

AVR-X4300H: Home Theater Receiver with HEOS network integration ($1,499)
The Denon AVR-X4300H Network AV receiver is a 9.2-channel home theater receiver with discrete, identical amplifiers on each channel and 11.2 channel processing, The AVR-X4300H is immersive audio-ready for Dolby Atmos and DTS:X plus Auro 3D as an optional, paid upgrade.

The nine amplifier stages, each rated at 125 watts (8 ohms, 0.05%THD, 20Hz~20kHz though this is not with all channels drivel). You can power a 7.1.2 or 5.1.4 immersive audio experience without an external amplifier. By adding an external stereo amplifier, you can get a full 7.1.4 setup. If not in use for 3D audio, the integrated amplifiers can be assigned to drive another pair of speakers in a second and/or a third audio zone running the same or different source than the main room. There are eleven speaker terminals and 11.2ch pre-out connections. The AVR-X4300H promises to be a flexible performer in multi-room and amp assignment options. Besides the two HDMI outputs for the main room, a third HDMI Zone output gives even more convenience in connecting multiple displays in rooms throughout the home.



With its built-in HEOS technology, the AVR-X4300H can join or establish a HEOS wireless multi-room music network. HEOS users can enjoy their favorite music anywhere and everywhere around the home. Share music to other HEOS devices, and explore, browse, and play music from a music library – all controlled from the "HEOS" app for iOS, Android and Fire devices. With HEOS connected, the user can stream from music services like Spotify, Pandora, TuneIn, iHeart Radio, TIDAL, SiriusXM, Soundcloud®, Mood:Mix, Napster, Deezer, and Amazon Music. Standard resolution as well as high resolution audio formats including FLAC HD and DSD are supported. Moreover, the user can listen to tracks directly from their phone, tablet or USB drive. The HEOS app gives instant multi-room audio control, meaning users can command music in every room from any device: play different music from different sources in every room, group several rooms together and play the same song. More on the full HEOS line-up can be found here: www.heosbydenon.com.

Full wireless connectivity is provided via Wi-Fi and Bluetooth, while Apple's Airplay is supported for simple wireless music streaming. High-resolution audio formats and playback are fully supported over network streaming for incredible fidelity.

Denon says that there are a total 8 HDMI 2.0a inputs (including one on the front) and 3 outputs. This includes full compatibility with the latest HDCP 2.2 specification required for 4K Ultra HD copy-protected content. The AVR-X4300H further supports full rate 4K Ultra HD video along with 4:4:4 Pure Color sub-sampling, HDR and BT.2020 pass-through. The receiver's video processor can upconvert standard definition and high definition video sources to full rate 4K Ultra HD resolution.

AVR-X6300H: Home Theater Receiver with HEOS and 11ch monolithic amp design ($2,199)
Denon's AVR-X6300H is the first Denon AV Receiver with 11 channels of amplification built in, each rated at 140 watts per channel (8 ohms, THD0.05%, 20Hz~20kHz). No more external amplification needed for a full 7.1.4 immersive audio setup. Dolby Atmos, DTS:X and Auro 3D (supported, via an optional firmware upgrade) are all available.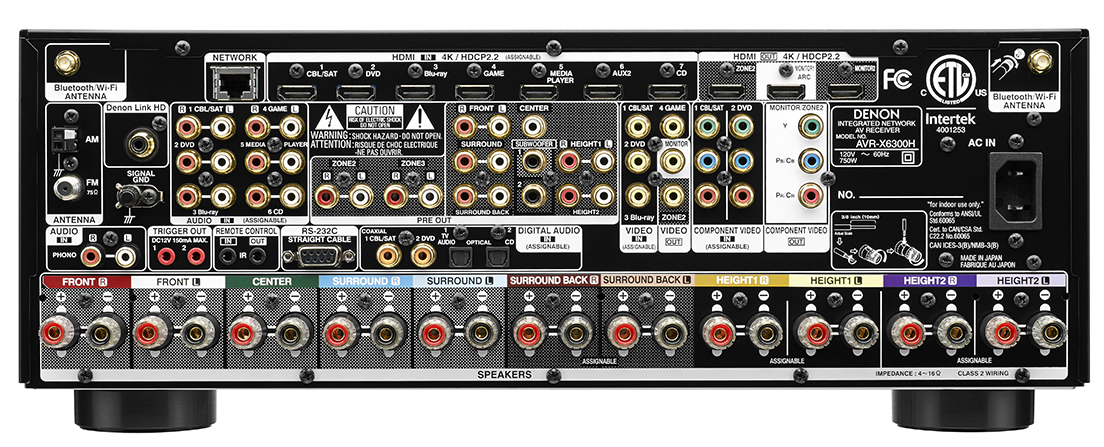 The X6300H shares the same video section and HEOS integration as the AVR-X4300H.  However, the AVR-X6300H has what Denon says is a monolithic amplifier design with custom made DHCT (Denon High Current Transistors).

Denon's Setup Assistant and Quick Start Guide are included.  They are excellent and really hallmarks of their receiver line. If you haven't seen it in action, it shows that the company has put a lot of effort into this area.  Audyssey MultEQ XT32 automatic room acoustic measurement and correction system is standard as is Audyssey Dynamic Volume, which offers offers real-time volume adjustment.  The Dynamic EQ rounds out the Audyssey suite and is said to improve a system's surround sound effects at low volume levels. 
If you've been waiting for a high performance receiver with all the bells and whistles, then these Denon models might be just what you've been waiting for.