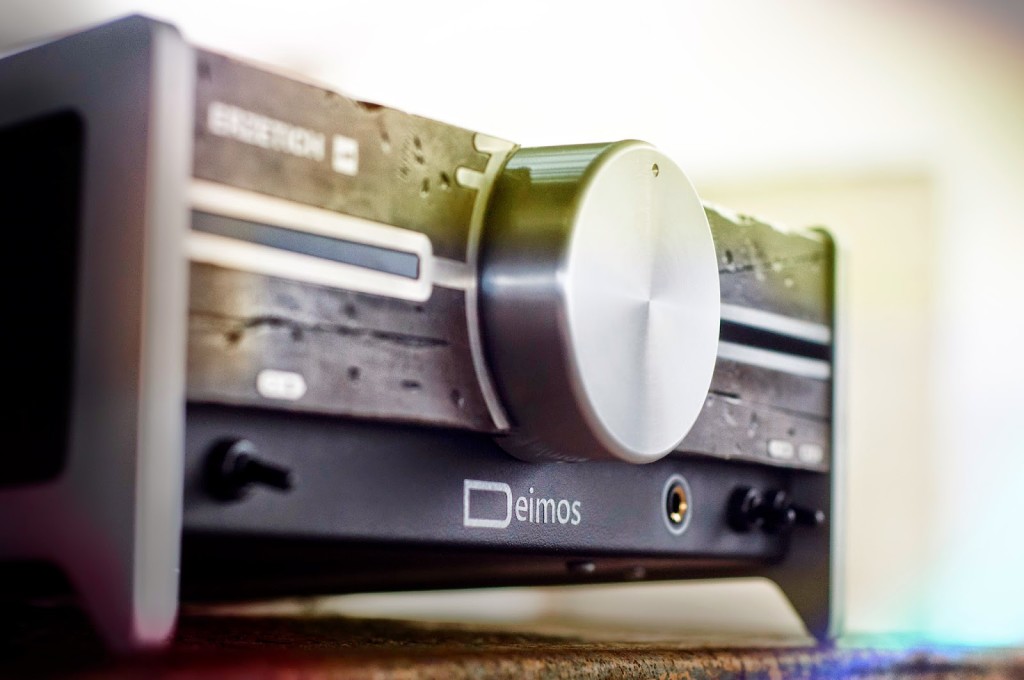 With the explosion of the portable music revolution over the past 10+ years, headphones and headphone amplifiers have become an increasingly popular part of audiophile interest. Slovenian-based Erzetich Audio focuses their product line exclusively on headphone amplifiers. They have just launched a new, dual mono, class-A headphone amplifier to help drive some of those high-end headphones to their full potential.
The dual mono design of the Deimos sports three separate power supplies – one for each channel plus one for the digital part. Erzetich claims that the advantage of the three power supplies allows for the complete separation of power supplies to avoid inter-channel interference or interference from the digital part.
The Deimos' design and craftsmanship of an aged linden wood faceplate and milled aluminum parts come at a price. It's $4,000 Eur or about $5,063 US. Here are the full details about the Deimos from Erzetich.
GENTLE GIANT AMONG HEADPHONE AMPLIFIERS
Erzetich releases Deimos – a prestige dual mono class-A headphone amplifier
Slovenia, September 23, 2014—You surely need to have a proper sound system if you really love music – after all, you miss half of its beauty if you don't.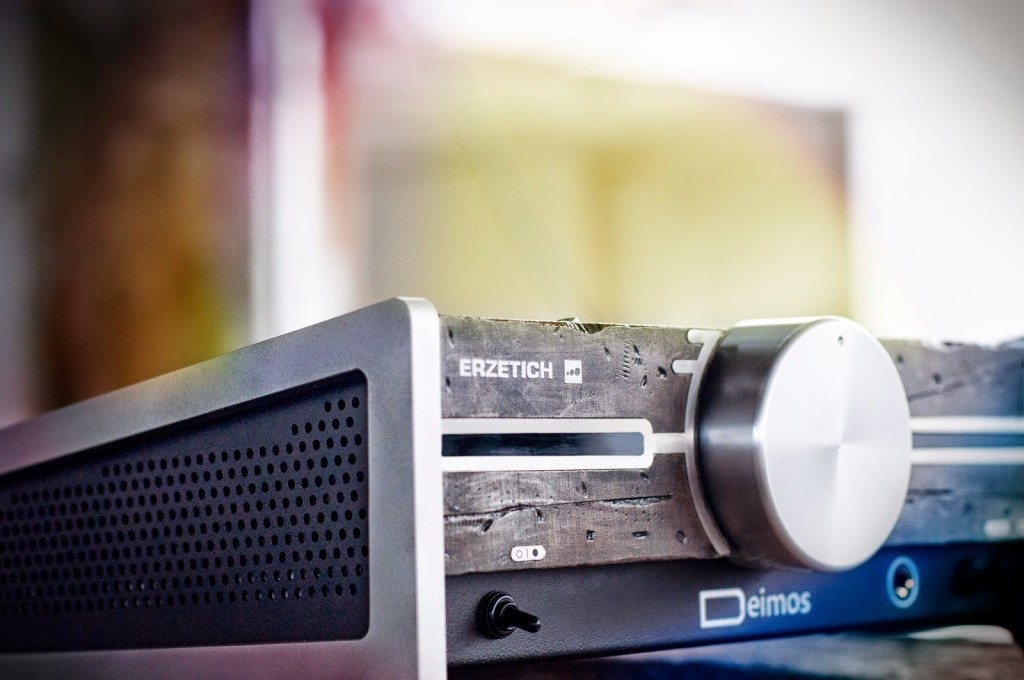 Detail of the Erzetich Deimos dual mono class-A headphone amp with aged linden wood faceplate
For the ones who prefer enjoying this form of art through headphones, there's a new headphone amplifier that will treat your ears just right. Despite the rough, 19th century industrial look, with an aged linden wood faceplate and milled thick aluminum parts, there's a gentle soul inside. This 6.5-kg-headpone amplifier sounds balanced and precise and makes an important visual statement on your desk – no wonder it was a great success among visitors at this year's Munich High End Hi-Fi show.
"I've rediscovered the music with Deimos," says Blaž Erzetič, the CEO and the founder of Erzetich Audio. "This is a supercar among headphone amplifiers. Every album I listen to on it is a spectacle on its own. Visually, we studied a lot the exterior, too, to make this machine not only an ear-, but also an eye-candy."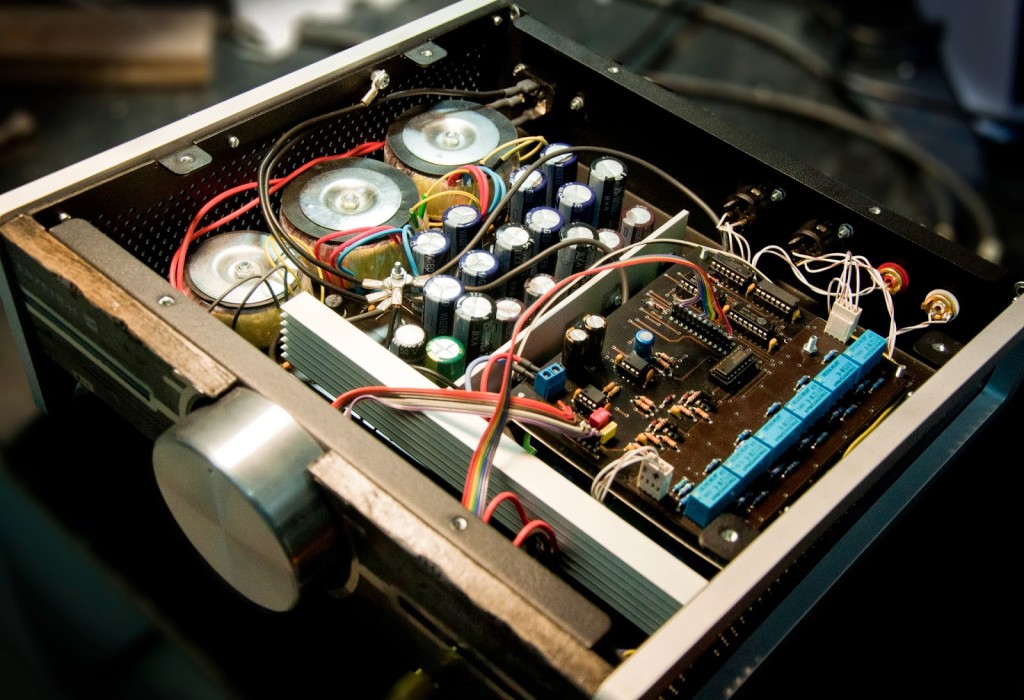 Top view of the dual-mono Demos' circuitry including its three separate power supplies
Due to the complexity of manufacture, Erzetich plans a very limited yearly production of this completely hand crafted, prestige headphone amplifier, dedicated to the ones that can appreciate exclusive high-end audio components.
Deimos will be available at the beginning of 2015 for around 4,000 EUR, while Erzetich will start accepting preorders with a special discount in late September.
For more information visit www.erzetich-audio.com.
Technical characteristics of Deimos:
Chassis: steel, aluminum, wood, acrylic
Type: dual mono with three separate power supplies – one for each channel plus one for the digital part (advantage: complete separation of power supplies to avoid inter-channel interference or interference from the digital part)
Analog technology: class-A (advantage: very fast and precise amplifier technology)
Smoothing capacitors: 43000 uF per channel (advantage: very stable power supply)
Frequency response: 4 Hz-40 kHz (-1 dB)
Volume adjustment: digitally controlled relay based, 64 steps (advantage: complete channel separation and controlled logarithmic scale)
Input: RCA and XLR (advantage: selection for the most appropriate signal transfer from the sound source)
About Erzetich
Erzetich is focused on personal audio, specifically on headphone amplifiers and accessories. The company is located in the west of Slovenia, in the woods of Trnovo, not really far away from the border with Italy. Erzetich Audio products keep a clean and fine industrial design, as well as a simple use and positioning.
Since it's all about music, Erzetich already collaborates with important names in music like Guano Apes, Billy Gould (Faith No More), Benji Webbe (Skindread), Sarah Bettens (K's Choice) and Anneke Van Giersbergen. Erzetich is also preparing their 2nd high resolution music compilation featuring talented indie artists.