The only possible workaround is to send the audio signal from the main zone to the other zones. In my specific instance, I have my main zone from my Anthem 50v 3D feeding a 7.1 setup in my main listening room. I then have Zone 2 feeding the Bedrooms and Kitchen and Zone 3 feeding a family room.
Gefen's HDMI to HDMI with audio conversion (GTV-HDMI-2-HDMIAUD) seemed like a good solution to solve my Zone 2 and Zone 3 problems. So, I ordered the unit from SolidSignal to see if it would be a good fit.
I did have some pre-sale questions regarding the unit. Some of my initial questions needed to be sent over to Gefen directly. My main concern was to make sure that all the connections–analog and digital–were active simultaneously. The response back from Gefen was, "Our HDMI-2HDMI AUD outputs audio over the HDMI connection, the Toslink digital optical connection, and the line level RCA analog out, all simultaneously." While I felt the answer was a bit ambiguous in light of what I wanted to do, it was good enough for me.
UNBOXING AND PACKAGE CONTENTS
The Gefen arrived in great condition as usual from anything shipped from SolidSignal. There isn't a lot of excess packaging and the box font shows the front of the unit and the box back shows the back.
The package contains the instructions, HDMI to HDMI with audio converter, a 6′ locking HDMI cable, power supply and slide on adapters for global compatibility.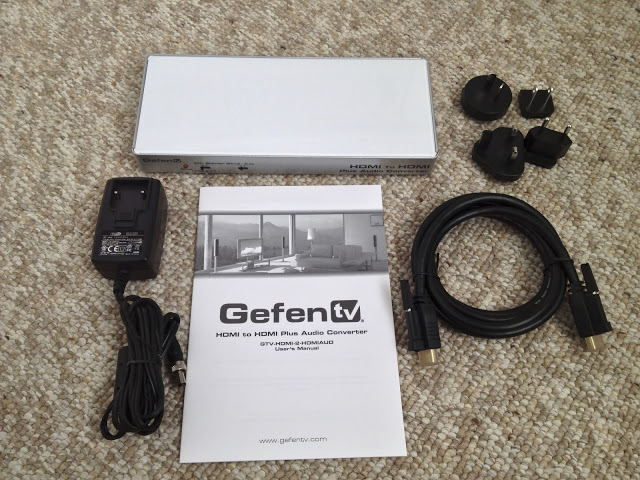 Package contents include power adapters for just about every country.
The Gefen comes with a locking HDMI cable. However, the Gefen unit itself doesn't have the ability to support the locking connection.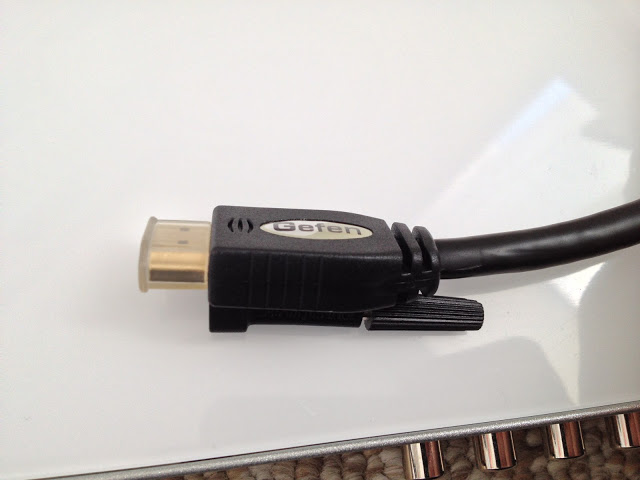 Detail of the locking HDMI cable
The Gefen unit has a white shiny top (think iPod white) and is brushed metal everywhere else. The Gefen unit is also very slender which makes it great for fitting into a rack or small places. It's only about 9 1/4″ long and low profile in height. This was great to see.
I personally prefer slender units because they are easy to fit into my audio video rack. Having the unit be so slender made it a good fit for sitting on a shelf or on top of a source component like a Bluray player or power conditioner.