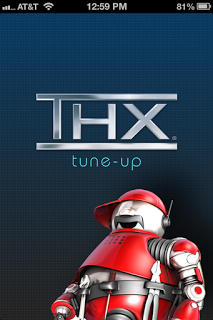 I previously noted that THX had released its Tune-Up App for iOS devices (Android version coming later in the year) and after testing it this evening on two different TVs and speaker setups I can tell you that this app is a serious winner. THX deserves a lot of credit for developing a simple, straightforward, informative, and well-designed app. This app is intended to be just that and nothing more. It doesn't pretend to be a comprehensive suite, nor does it pretend to take the place of a proper calibration disk or calibration system; however, it's a quick, simple and easy way to see how well your TV is calibrated and make just the right adjustments to make it look great.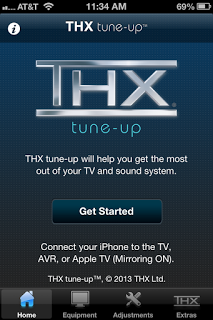 The THX app is cleanly and simply laid out.
I tried the app on two TVs that I have–an older LCD and a newer plasma. I had previously calibrated my LCD using the Spears and Muncil Bluray calibration disc. It was great to see that my settings were quickly and easily confirmed with the THX app. My plasma, however, I hadn't yet gotten around to calibrating as it's the TV set that is serving up my secondary 4.1 setup and I only recently completed sending HDMI signals over to the TV via an HDMI balun (blog on that project forthcoming). So the THX app was a great opportunity to calibrate the plasma and get those great, deep blacks that plasmas are known for (and still do better than LCDs and most LEDs on the market).
As I mentioned, the THX app is very well laid out. You are initially greeted with a welcome screen and a single button to get started.
You will have the option to watch a short video. If you are new to calibration, take some time to watch the video–it's short and well done–and it will educate you on the merits of calibrating your set and also what you will be doing with the app.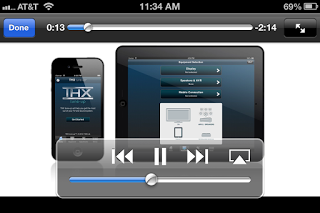 The THX app has a great video tutorial on what you'll be doing. If you are new to calibration, take a moment to watch the short clip. It's very well done.


Be sure to read all the fine print. It will save you any aggravation. I missed the note that said that if you are using an AppleTV to do the calibration, then you will only be able to do stereo audio calibration and not 5.1. You'll also need a minimum of an iPhone 4s or iPad Gen2 or later to do the calibration via AppleTV!
When you begin to use the app and when you are in each calibration screen, the THX app will give you a visual overview of all the buttons, etc. that you'll be using.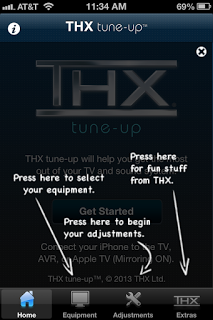 The THX app gives you a step by step explanation of each button on the screen. This is a great help for first-time users who are new to the app and who are new to calibration.
You'll then be asked to lay out your setup including selecting the make and model of your TV, AVR (audio and video receiver) and how you'll be connecting the App to the TV. NOTE that you will only get 5.1 surround sound if you plug your iOS device with an HDMI cable to your receiver. If you use the an AppleTV to make the connection, you will only be able to pass stereo.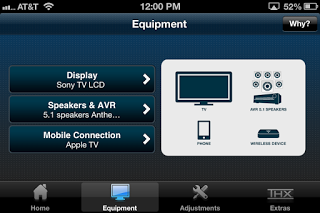 The app asks you details about your setup including whether or not your TV or receiver or preamp-processor are THX certified.
I was very impressed to see the use of color filters with the app using the iPhone and iPad's camera! It's an ingenious idea. Normally, you'd use other devices or special filter lenses to do this on your set. What will happen when you are looking at your screen you will see a red box or yellow box with a white background and then you will point the camera at the TV and it will apply a red filter over it. The goal will be to get the center box as close in color to the background as possible. If you've never calibrated a set before, the results are very impressive!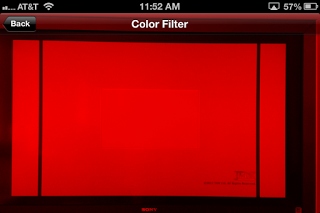 The app uses the iPhone or iPad's camera to help you properly calibrate your set. It's really a brilliant way to give you filters that you would ordinarily only get in a professional calibration system.
Each screen gives you both a pattern and then a high quality photo so that you can test and see how you like your settings. It's a great way to see if anything is not right.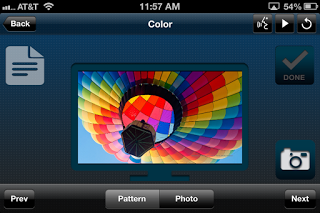 The included high quality photos allow you to see the results of your calibration.
The audio section is great. It will do basic identification of speakers and allow you to see if your speakers are in or out of phase. It won't do anything advanced like set speaker levels and allow you to use an SPL.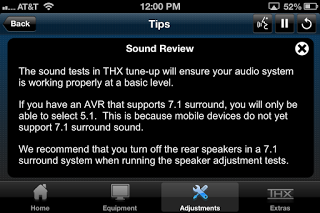 The sound tests are helpful in identifying speakers and making sure that they are properly in phase.
A great and cool thing about the app is the THX extras section. It gives you the ability to play the characteristic THX "Moo" sound, the THX Deep Note and many of the THX trailers that you're familiar with. It's a great way to show off your system. If you're used to playing any of these trailers from a Bluray you'll immediately notice the lower sound quality vs the lossless audio on the Bluray. Regardless, its a quick and cool way to show off your system!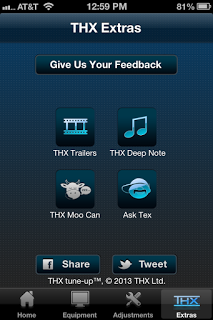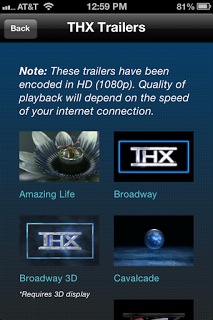 So what are you waiting for? Go download the app from iTunes by clicking here. If you are viewing this post after the free promotional period, pay the $1.99 and enjoy a quick and easy way to make your viewing and listening experience that much better and you get some great demo material to boot. What more could one ask for? Great work to the folks at THX!