The AKG N60 NC isn't just a great noise cancelling headphone, it's a superb, smooth, natural-sounding on-ear headphone that will make just about any audiophile smile.
For this review I had to touch upon two subjects that have always made me leery. The first is on ear headphones. The second is noise canceling headphones. I've always preferred over the ear headphones with passive noise cancellation. Even though they tend to be bulkier, I would much rather have that then the underwater sensation and pressure that noise cancellation technology brings with it. When AKG asked me if I would be interested in a sample of their new N60 NC noise cancelling headphones, I confess that I had a bit of trepidation. I only excepted the offer because of AKG's stellar reputation in the audiophile community. While AKG provided the headphones, the observations are solely mine.
First impressions and specs
The N60s packaging was what you would expect in a premium headphone. When I unpacked these cans and held them in my hand I was immediately taken by how light they were. They weigh only 6.3 ounces.  Not only were they light, but I could fold them in half into almost nothing. It was awesome what a compact footprint they had when folded.  In other words if the intent was to make an immediate impression on portability they had me sold right away.
The frequency response of the N60s is rated from 10Hz to 22kHz. They are super-easy to drive with a sensitivity of 123 dB and an impedance of 32 Ohms. Active noise cancellation is powered by a built-in Lithium-Polymer rechargeable battery (3.7V, 320mAh) in the left ear cup. An LED on the noise cancellation switch glows green when noise cancellation is turned on. When the battery needs charging, it blinks green.  the LED turns red when charging. The battery charges quickly—in less than 3 hours. You charge the battery with the included USB charging cable (more on that below). A fully charged battery provides approximately 30 hours of active noise cancellation use. While I never  confirmed the 30 hours, all I can tell you is that I'd sometimes go weeks before I needed to charge the battery.  You don't need the battery to use the headphones.  You can listen to the headphones in passive mode using the audio cable at any time—whether or not the battery is charged.
The ear cups are covered in a soft imitation leather and have extremely comfortable and thick memory foam pads. The headband is a similarly wrapped in a high-quality imitation leather.  The accented trim is a combination of metal, plastic, and rubber. One wouldn't immediately think about it, but the last thing you want in foldable travel headphones is slick surfaces that would cause the headphones to fall out of your hands. AKG either deliberately or accidentally thought about this aspect. No matter how I held the headphones I consistently had a good grip.
Fit-n-finish
Wearing these cans was a delightful experience. There wasn't too much pressure and they were extremely flexible. The ear cups had excellent rotation and fit my head with ease. My only observation is that the ear cups rotated perhaps a bit too much sometimes requiring a bit of adjustment. Nevertheless, a little touch with my finger and everything felt great.
Passive noise cancellation on these headphones is not that great. You can wear these headphones without blocking out too much of the outside world. This makes the AKG N60 a good choice if you want to listen to music while also being aware of your surroundings. But, if you want to separate yourself from your environment you have that option too with the on-board noise cancellation.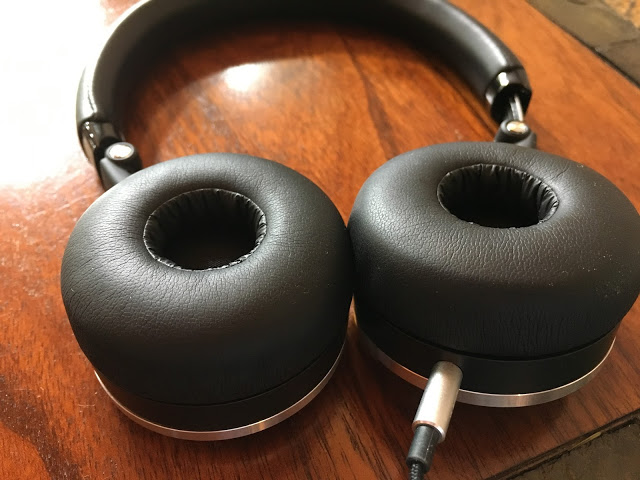 The only thing slightly odd about the N60 is that the two included nylon-braided cables have a 2.5mm tip.  This is the tip that plugs into the headphones.  You cannot swap out other cables.
The first cable has a standard inline microphone.  The single button microphone has play/pause functionality and depressing the button a number of times will allow you to skip forward or go back. The second ends in a USB interface. This is the only way to charge the N60s.  There is no micro USB interface as many other headphones have.  If you don't bring the second charging cable with you, you cannot recharge the headphones for active noise cancellation.
Noise be gone!
Activating noise cancellation is very straightforward. There is a switch on the rear of the left your cup that you access with your thumb. Simply push up to engage noise cancellation and pull down to turn it off.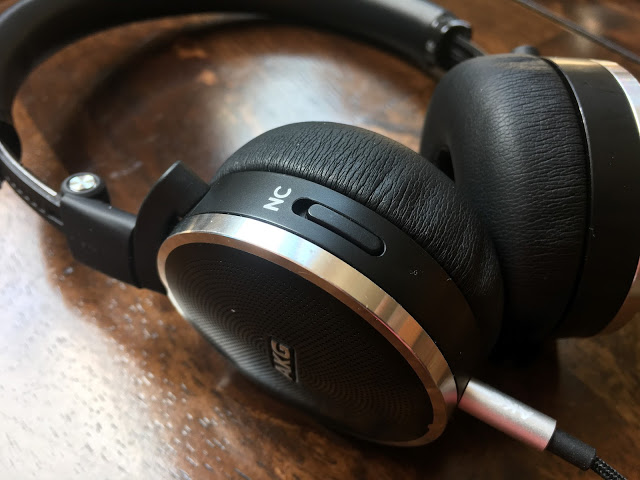 AKG's active noise cancellation is scary-good. I mean scary good. You can tell that it's been optimized to address low frequency, engine-type noise that you'd typically experience in a plane, train, or vehicle. Using the N60s while flying on a Boeing 747 with ambient noise tipping 94db (measured with an SPL meter) was incredible. The engine rumble just about disappeared and the constant rumble of the air vents was all but eliminated. I could listen to movies or music with ease at about the same volume level that I would use in quiet environments without active noise cancellation.
Taking the AKG N60s on the road had similar effects. If I turned on noise cancellation in a car, the 90+ decibel noise was magically turned off.  It was initially an eerie thing to feel the car rumbling without hearing it any longer. It was almost like the sensation you get the first time you are in an electric vehicle.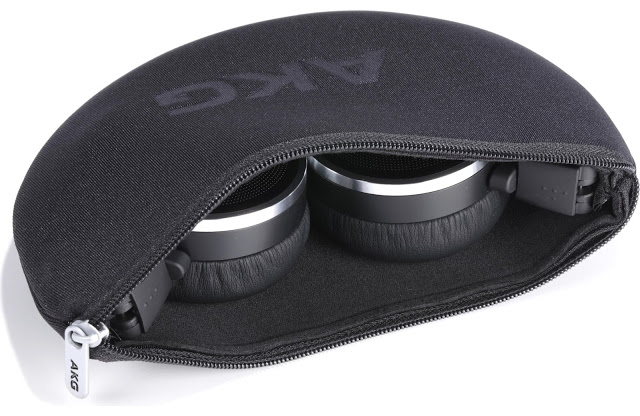 While that characteristic underwater sensation and pressure on my ears were not completely eliminated when I enabled active noise cancellation, it was completely tolerable. That's a huge statement coming from me. I dislike active noise cancellation.
Audiophile sound on the go
If you have any reservations about the AKG N60's sound, you shouldn't. These things are designed for the audiophile on the go who doesn't want a compromise with music on the go.  For example, listening to the 48kHz hi-res FLAC version of "Crash into Me" by the Dave Matthews Band showed that the N60s could master the delicate rhythms of the song's acoustic guitars while maintaining the snare drums' detail, thwap, and separation.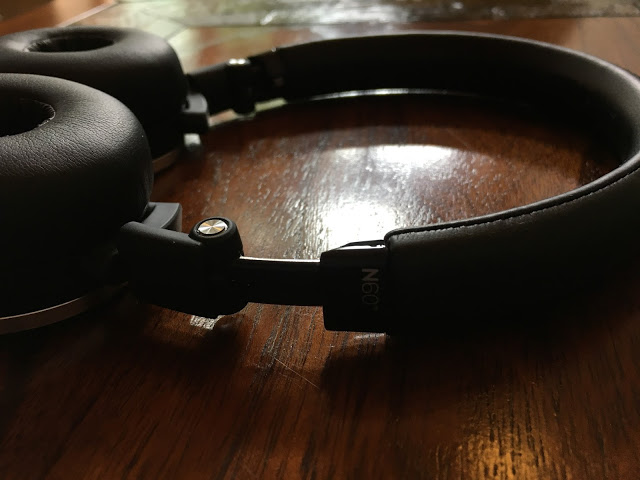 Timbral accuracy was a strong suit.  There was very little apparent coloration on either male or female vocals. Whether it was Dire Straits "Sultan of Swing," Pharrell Williams "Happy," Diana Krall's "Almost Blue," the N60's handled each band and artist with just the right finesse and flare.
The AKG N60s were equally at home with movies as they were with music. I fired up J.J. Abrahms continuation of the Star Wars saga, Star Wars: The Force Awakens, and found vocals to be highly intelligible (including Kylo Ren's) and the dynamics of the special effects sounds to be highly engaging and lively.  The Finest Hours retells the amazing and harrowing true story of the US Coast Guard's 1952 rescue of the Pendleton oil tanker of the coast of Massachusetts. Throughout, the AKG N60s could go from subdued office scenes to an all out nor'easter assault with ease.
In case you're wondering, I tested movies and music with active noise cancellation enabled and disabled.  At reasonable volumes, the the characteristic hiss produced by active noise cancellation was unnoticeable. I also didn't notice too much interference on the music when active noise cancellation was active.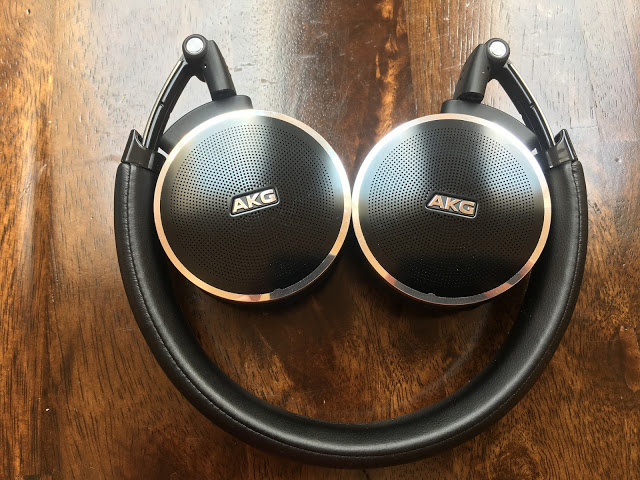 My many months with these headphones continually showed that they have been voiced with just the right nuances and attention to detail that audiophiles value.
The AKG N60 is the easy choice for audiophile on the go
If you've been looking for an audiophile on-the-go headphone, look no further than the AKG N60. AKG has brought their audiophile and studio pedigree to an on-ear, noise-cancelling headphone.  Amazing. By any measure, this is one light, compact, and great sounding headphone.  It's active noise cancellation feature is superb and its sound is oh-so-right. I never thought I'd say this about an over the ear headphone with active noise cancellation but this headphone has become one of my headphones of choice when I'm on the go. Highly recommended.