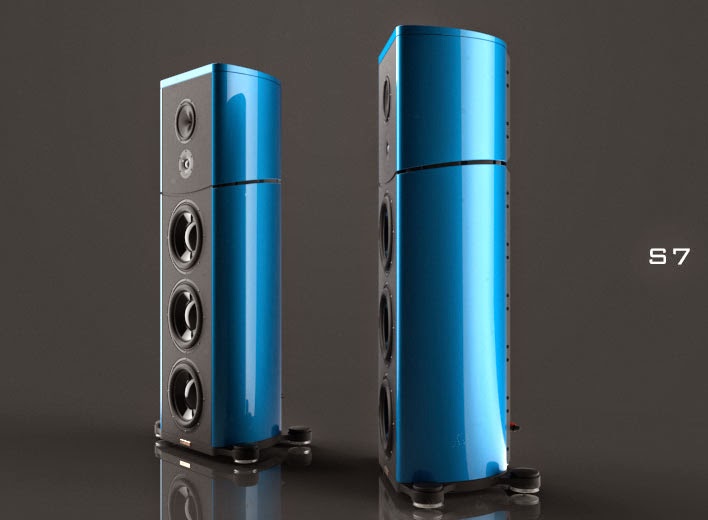 Magico has announced a new addition to the award winning S-Series line of loudspeakers– the S7.  The S7 is a full range, 3-way design, floor standing loudspeaker that incorporates new tweeter, midrange and bass driver designs derived from the engineering found in the company's MProject loudspeaker.
Magico says that the acoustic suspension enclosure of the S7 features curved aluminum side panels that are machined in-house from half-inch thick aluminum extrusions which are sixteen-inches in diameter.  The S7 houses three new 10-inch bass drivers with aluminum cone.  Magico claims that the excursion rate of the voice coil is measured at 15-mm linear movement for clean and undistorted sound pressure levels up to 120dB @ 50Hz / 1-meter.
The 6-inch midrange driver's cone material is formulated using Arkema Multi-Wall carbon nanotube and XG Sciences C-750 Nanographene.  Magico says that combined it is 20% lighter and 300% stiffer than previous cone material designs. The underhung neodymium base motor system uses two extra-large magnets to provide an ultra-stabilized magnetic field for the pure titanium voice coil to operate within. The driver operates in a purpose built sub-enclosure made of a proprietary polymer material that was first introduced in the S3.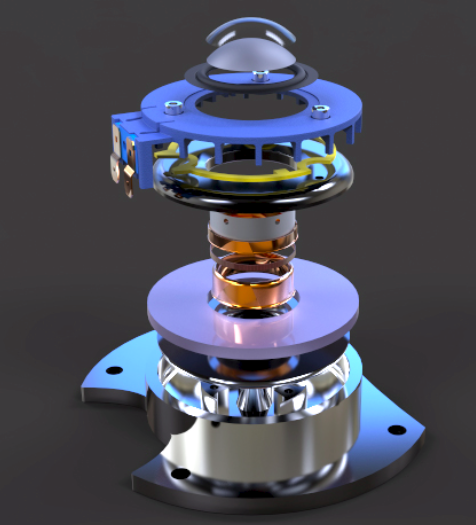 Magico's Diamond-Coated Beryllium Tweeter
The S7 incorporates a new 1-inch tweeter that features a diamond-coated beryllium diaphragm with optimized geometry, created using Finite Element analysis modeling tools. This purpose built tweeter has extra-long excursion movement and uses a neodymium-based motor system that is customized to match the sensitivity and power handling capabilities of the S7 while maintaining ultra-wide dispersion characteristics and ultra-low distortion measurements.All five drivers in the S7 are acoustically integrated using Magico's exclusive Elliptical Symmetry Crossover topology that includes components from Mundorf of Germany.
The S7 is a 4-Ohm speaker with a sensitivity rating of 89dB.  The S7's frequency response is rated to be 20 Hz – 50 KHz with a recommended power handling of 50-1000 Watts.  The Magico S7 weighs in at a hefty 300 lbs.  The S7 will be available in July at a suggested retail price of $58,000/pair.  For more details, visit www.magico.net.