Krell has announced that it will begin shipping it's Digital Vanguard Integrated Amplifier beginning this week. Unlike traditional integrated amplifiers, which have typically been analog-only, the Digital Vanguard adds USB, 2 x HDMI, coaxial, and optical (toslink) digital inputs. There's even an HDMI output.
The Digital Vanguard's digital to analog output stage features 32 bit ESS Sabre DACs. The new Vanguard can therefore handle the best high-resolution digital audio available. The Digital Vanguard's coaxial and HDMI inputs support PCM audio up to 24bit/192kHz. The optical digital input supports up to 24-bit/96kHz audio. The two HDMI inputs are HDMI 2.0 and support both DSD and UHD/4K content.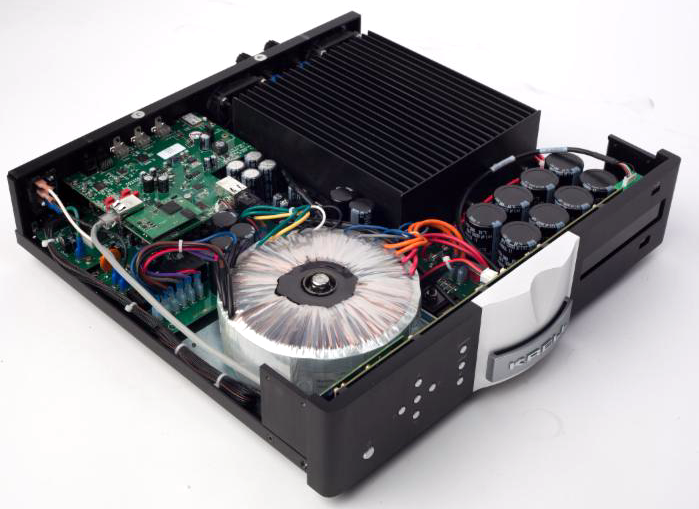 Krell's HDMI implementation included an audio return channel (ARC) so that the Digital Vanguard can serve as the hub for online services such as Pandora, iTunes Radio, Netflix, Vudo and others.
The Digital Vanguard Integrated Amplifier also caters to streaming music. Ethernet music streaming is available and controlled through Krell's dedicated iOS and Android apps. USB and network streaming supports MP3, MP3, AAC, WMA, WAV(PCM), FLAC, ALAC up to 24b/192kHz
Bluetooth wireless streaming is also supported from phones, tablets, and computers.  Krell's says that their new iOS and Android control apps have also added new features.  For example, you can now manage playlists across multiple servers on your network.  No matter where your music lives, you can now manage it.  You can even play back media files stored on DropBox and SkyDrive/OneDrive cloud storage.  The updated apps give you full search capability with playlist creation and editing.
If you own the previous generation, analog-only Vanguard, Krell has you covered.  Also beginning this week, Krell will begin shipping the digital module that will upgrade the analog-only Vanguard to the new Digital Vanguard platform.
By any measure this is an unbelievably impressive integrated amplifier that promises to satisfy both the die-hard two-channel crowd and the modern high-res music generation.