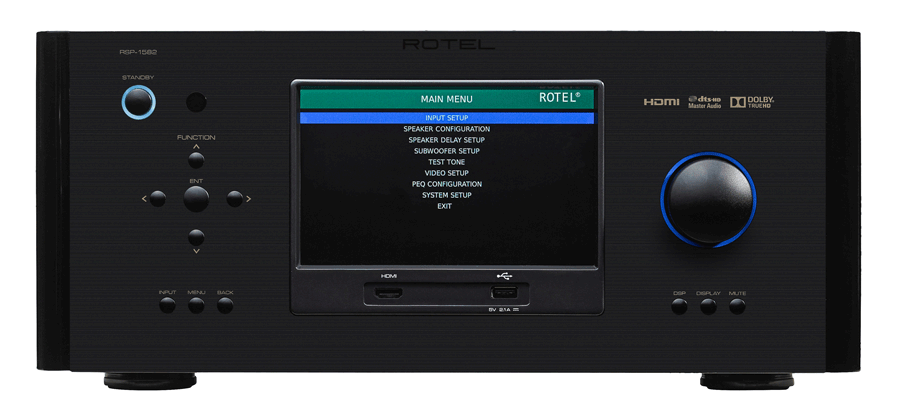 Rotel Electronics, the sister company to high-end audio heavyweights Classé and Bowers and Wilkins, has announced their new flagship surround processor, which is geared towards die-hard two-channel fans as well as home theater aficionados. The RSP-1582 is a 7.1 channel, preamplifier/processor that Rotel has designed to serve as a master control for all audio and video components.
Rotel says that for the past two years, their engineers have "painstakingly evaluated every circuit design and feature requirement of the RSP-1582, challenging themselves to produce the very best audio/video performance possible for home entertainment." Under the hood, it looks like the engineers have focused intently on the audio portion of the processor.
The Rotel RSP-1582's DACs consist of six 24-bit/192kHz Wolfson WM8740 chips, four dedicated DACs for the Front Left, Front Right, Center and Subwoofer channels ands shared stereo DAC's for the rear and surround channels. Also included is a Texas Instruments PCM1804 audio-performance analog-to-digital converter (ADC).
As you would expect in a flagship preamp, the RSP-1582 has an analog bypass function, which circumvents the DSP section to obtain the purest analog signal path.  The RSP-1582 also has an Phono stage,  XLR balanced inputs, 7.1 channel input and the analog pre-outputs are available in your choice of XLR or RCA connectors—both with twin subwoofer connections.
Traditionally, Rotel has chosen to eschew bells and whistles on it's preamps and receivers and the RSP-1582 maintains that tradition.  Rotel's RSP-1582 sports:
A 7″ TFT color display for adjusting all audio and video parameters
Front-panel USB input for Apple iOS devices with 5v (2.1 amp) charging capability.  In our opinion, this port should have had 10v charging capability to support iPads.
PC-USB input supporting 24bit/192kHz audio
An embedded aptX Bluetooth receiver for CD quality wireless connectivity.
RS-232 and IP network interfaces for custom installations and home automation
Two IR output connector for IR pass-through and wired IR remote input
Three independent trigger outputs
Software updates via USB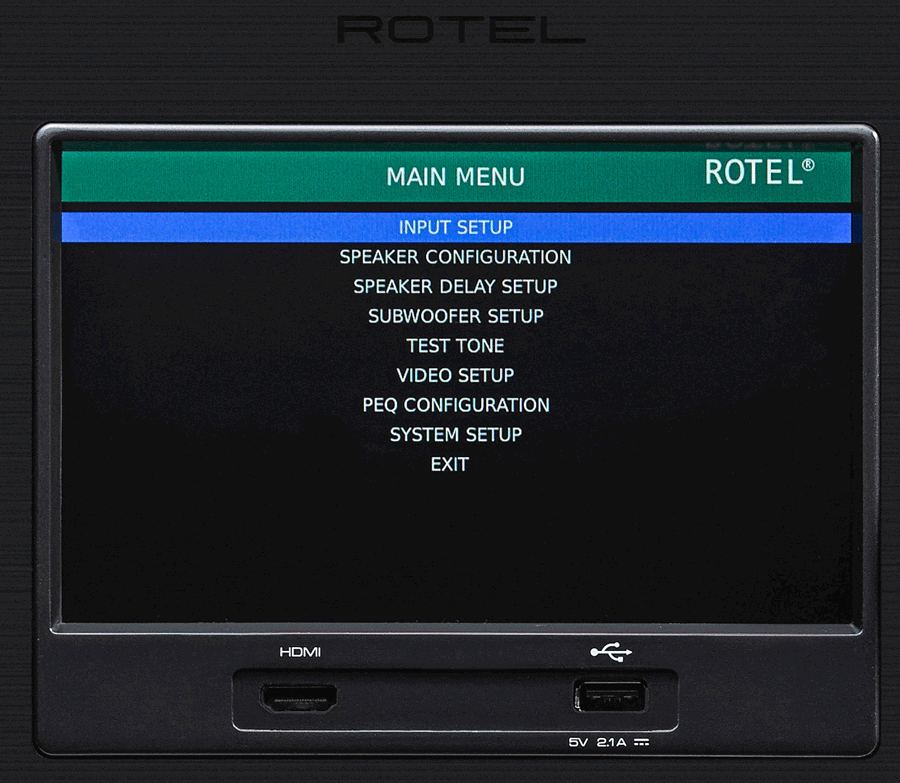 Detail of the 7″ color display on the front panel provides users and installers with full access to the unit's configuration options.  There is also a convenient front HDMI and USB port, although the USB port won't be enough to charge an iPad.
While the Rotel has a 10-channel Parametric Equalization (PEQ) option, it completely foregoes any automated room correction solution.  For many audiophiles, the omission of this feature—especially in a multichannel processor—has been a bit of a head-scratcher.  While Rotel touts the importance of the PEQ and the ability for a dealer to dial in the processor to a room, the omission of any room correction solution is a glaring omission in today's market.  There's also no current or future support for immersive surround formats such as Dolby Atmos, Auro-3D, or DTS:X.  As with most of Rotel's products, the RSP-1582 doesn't appear to have an upgrade path, so prospective buyers should think very carefully before making such an investment—especially in light of the fact that we are in the middle of a technology transition with UHD standards being outlined and HDMI 2.0 fresh on the market.
On the video side, this is an HDMI 1.4-compliant processor.  This again is a bit of a head scratcher with many manufacturers now turning to HDMI 2.0 for their models.  Even though the Rotel is saying it's a 4K processor, it won't support UHD/4K signals at 50 or 60fps—only the lower 24 and 30fps.  There are, however, dual HDMI 1.4 video pass-through outputs (one ARC/CEC enabled) and a front-panel HDMI 1.4 port.
I respect Rotel for sticking to their philosophy and providing a streamlined product with a hard focus on build-quality and audio.  Potential customers who are considering the Rotel RSP-1582 for their system can get the unit in either black or silver finish when it's released in the March-April 2015 time-frame for an MRSP of $3,499.