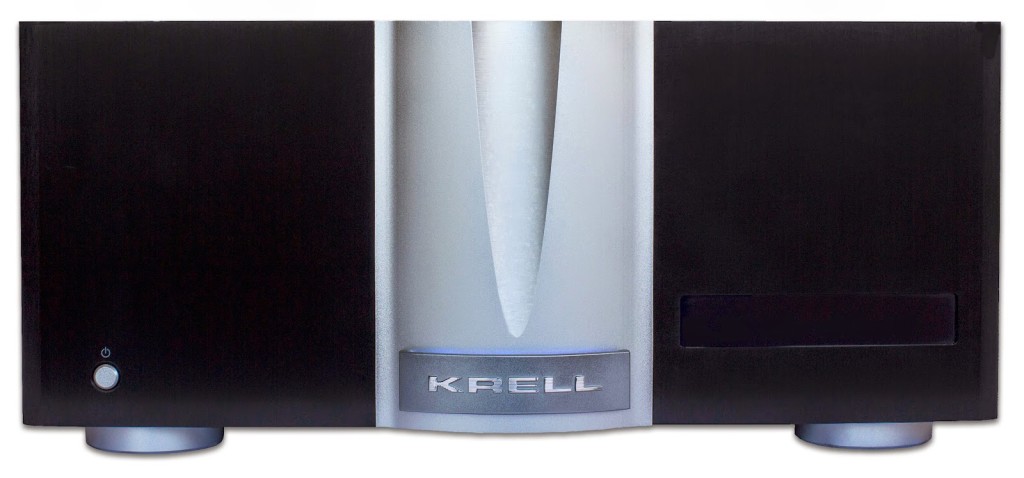 Krell's iBias Class A Technology Multichannel Amplifiers
The Krell name is virtually synonymous with the best of the best in high end audio. For over three decades, Krell's products and especially their audio amplifiers have won countless industry awards. Krell's amplifiers have established themselves across the industry as the benchmark for dynamics and driving just about any speaker on the planet and doing so with the sonic purity of Class A topology.
Because of their performance, materials, impeccable build quality, and customer service, Krell amplifiers have never been inexpensive. However, as of the new year, their acclaimed multichannel amplifiers are about to get a price bump.
Effective January 1st, 2015, the US retail prices of the 5-channel Chorus 5200 and 7-channel Chorus 7200 200 watt/ch amplifiers will increase by $1,000 each to $8,500 and $10,500, respectively. If you have been wanting to own some of the best multi-channel amplifiers on the market to upgrade your music and movie listening experience, then now would be a great time to add a Chorus amplifier to your system.
In addition to Krell's Class A iBias technology, the amplifiers also feature state-of-the-art network interface through which you can easily perform system updates, set system parameters, set display time-out options, and even let the amplifier notify you, your dealer, or Krell if your amplifier should run into any issues.
Below are some of the specification and highlights of the multichannel amplifiers, courtesy of Krell:
Chorus 5200 and Chorus 7200 Highlights
iBias Class A Technology – Krell Chorus amplifiers utilize our new iBias Class A Technology to operate in Class A to rated power output. The core of the iBias technology is an innovative circuit that measures output current, reflecting the demands of the connected speaker in real time. iBias circuitry then adjusts the Class A bias to the optimum level. In addition, iBias reduces Class A bias when the signal is at low levels minimizing heat generation and power consumption. The Chorus 5200 and Chorus 7200 are the first Class A multichannel amplifiers and deliver dramatic improvements in sound quality, especially midrange richness and purity, to music and movie soundtracks.
Power Supply Highlights – Power supply technology has always been an important contributor to the Krell sound. The Chorus 5200 uses three toroidal transformers and the Chorus 7200 uses four toroidal transformers to feed amplifier modules that include the audio circuitry, rectifier, and power supply filtering mounted to an individual heat sink. This design shortens the electrical path from the power supply to the output transistors, allowing the circuit to respond faster and control the speakers better and more accurately.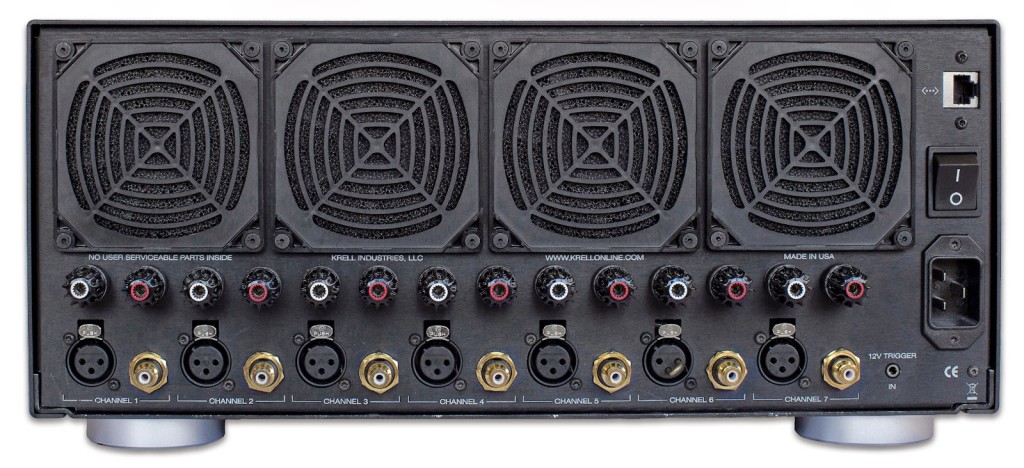 Rear view of the Krell Chorus 7200 amplifier
Circuitry Highlights – The new iBias circuitry is built on a foundation of core Krell circuit technologies using only discrete components. There are no generic integrated circuits or prepackaged amp modules used. We are employing a new power output device in the iBias amplifiers that operate at a 73% higher voltage, delivers almost 10% more current, and offers 120 watts of additional power handling capability as compared to other devices. With this combination, the iBias amplifiers deliver substantially more power in a smaller design. Krell iBias Class A amplifiers are the first amplifiers to deliver the unmatched musicality of Class A, classic Krell dynamic output, and the efficiency and low power consumption important for today's installations. It's all the power and control for which Krell has always been famous, with a level of resolution and musicality in the midrange and treble that has simply never been heard before.
Network Connectivity – The new amplifiers include RJ 45 Ethernet connectivity and an internal web page that is accessible from any smartphone, tablet, or laptop. Network connectivity brings convenience, monitoring, and reporting to end users.
Once the amplifier is connected to a network router with Internet access, the amplifier's advanced protection systems are now viewable on an Internet-connected device. Excessive current, output DC, fan speeds, short circuit, and overheating are all monitored in real time. If an issue occurs, the fault is displayed on the front panel and reported on the web server interface. Emails will automatically be sent to as many as three email addresses to notify the end user and/or the dealer of the condition