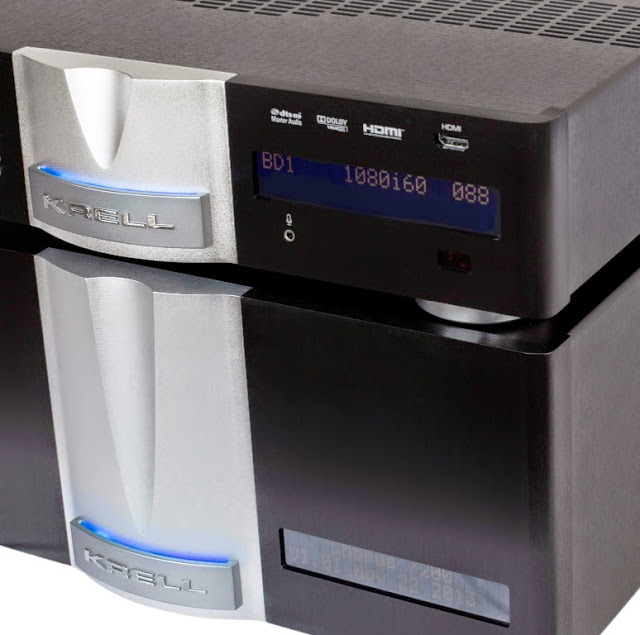 In the world of high-end audio,  processors and receivers become obsolete quickest due to the accelerating pace of audio (HDMI standards) and video (UHD) technologies.  A select few companies such as Anthem and Theta Digital are known to provide users with solid upgrade paths.  Those upgrades have extended the life their platform ensuring that users can get five, seven, and even stretching to ten years of current technology.
Unfortunately, one area where high-end boutique manufacturers have lagged is providing those latest AV standards in a timely manner.    Krell has just changed that perception.
Best known for their incredible amplifiers, Krell has made a serious technology push with the introduction of their Foundation series.  Now, Krell has announced that it's shipping its $7,500  Foundation 4K UHD processor this week.  It's also commencing upgrades to the previous generation Foundation processors.
The original Krell Foundation processor wasn't cheap at $6,500. However, it came packed with tons of high end features and integration options for custom installations.  The original Foundation was revolutionary with its lightning-fast, analog-speed-like HDMI switching.
Users who purchased that unit original haven't been left out in the cold.  Users wishing to upgrade from the original Foundation to the 4K UHD version were given an introductory upgrade price of $1,000—bringing the total cost equivalent to the current retail.  Users who didn't take advantage of the introductory upgrade, can still upgrade their older unit for $2,500.
Price aside, what impresses me about Krell's offering is that it fully supports HDMI 2.0 and even more importantly HDCP 2.2.  HDMI 2.0 is the latest HDMI specification and HDCP support is equally critical since devices passing 4K/UHD content will need to support HDCP 2.2.
HDCP 2.2 is the digital copy-protection protocol for ultra high definition content.   If your pre-pro, receiver, or HDMI switch doesn't support both HDMI 2.0 and HDCP 2.2 then you will only get a blank screen with UHD content.  Some of the mass market AV receivers or pre-pros being sold right now tout HDMI 2.0 support but do not support HDCP 2.2.  Simply put, purchasing one of those units may be a wasted investment because those units will likely leave users high and dry when UHD content is released.
Krell is touting that the Foundation 4K UHD has One Wire Support for Sony 4K media Servers. With a Krell Foundation 4K UHD processor, only a single HDMI connection is needed from the Sony FMP-X1/10 to the Foundation 4K UHD processor and then to the TV. A separate HDMI cable connected directly to the TV for video and another one to the processor for audio is not required as with other processors.
The Krell Foundation 4K UHD will also support two independent HDMI zones so that you can pass Zone 2 video via HDMI with both Zones supported at 4K/UHD.  The Krell Foundation has all the other bells and whistles such as support for:
Up to 1080p 60Hz signals including 24/30/36-bit RGB/YCbCr 4:4:4/xvYCC, and 16/20/24-bit YCbCr 4:2:2 video formats.
Up to 4K x 2K signals @ 30 Hz with 24-bit RGB/YCbCr 4:4:4/YCbCr 4:2:2, and up to 4k x 2k @ 60Hz with 12-bit YCbCr 4:2:0.
3D video format up to 1080p @ 60 Hz.
High resolution VESA mode video format up to QSXGA @ 60 Hz
One can certainly criticize the Foundation for lack of Dolby Atmos support.  Nevertheless,  I have to applaud Krell for supporting a relatively new platform and giving it significatntly new life with an upgrade path that puts it ahead of the curve.  There are low end and high-end manufacturers that have left customers high and dry.   Krell's support of the Foundation deserves applause and it's a call for other manufacturers to do the same for their customers.
If you have the funds, don't require Dobly Atmos, and want a stellar audio and video performer, the Krell Foundation 4K UHD processor should be on your short-list to audition.