Vizio has announced its 2014 M-Series Full-Array LED backlit LCD HDTV collection. Vizio claims that the new models offer a "notable step up in terms of picture quality, offering consumers Full-Array LED backlighting and up to 36 Active LED Zones, more than doubling the amount when compared to the 2013 collection." The new M-Series feature Vizio's Internet Apps Plus® (their smart TV platform), and an ultra-slim frame design.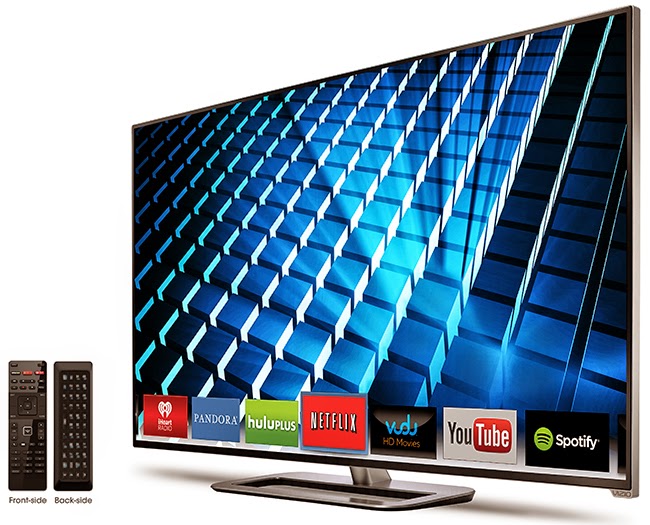 "The VIZIO M-Series collection represents a significant milestone in picture quality for mainstream consumers," said Matt McRae, Chief Technology Officer, VIZIO. "We crafted a best-in-class experience by increasing brightness, doubling the number of Active LED Zones and boosting the Clear Action performance. All this is coupled with our VIZIO Internet Apps Plus platform for endless entertainment options."Using advanced Full-Array LED backlighting technology in screen size classes 32″ – 70", the 2014 Vizio M-Series line-up provides superior picture performance.
Full-Array LED backlighting is a far better solution than edge lit models, allowing for stunning picture quality, with an even distribution of LEDs across the entire screen for a more evenly lit picture, enhancing its light uniformity.
Vizio says that the M-Series has up to 36 Active LED Zones and has higher contrast thanks to LED backlighting that dynamically adjusts to match the content onscreen, creating deeper, more pure black levels and brighter, more vivid details. Vizio also claims that on a pixel level, Active Pixel Tuning delivers intelligent luminance adjustments to further increase contrast and picture detail accuracy. For those who like it, you have the option of Clear Action Rate 7202, measured using a fast 240Hz Effective Refresh Rate and powerful image processing to deliver incredibly crisp fast action scenes.
M-Series feature additional entertainment options. Each unit is equipped with built-in Wi-Fi and features Vizio Internet Apps Plus, allowing consumers to access the movies, TV and music on the web by easily browsing through a collection of their favorite apps such as Netflix, Hulu Plus, iHeartRadio, VUDU, YouTube and new to the mix, Spotify.
Vizio Internet Apps Plus also supports a seamless second screen interactive experience between phones, tablets and smart TVs. Supported apps like Netflix and YouTube allow users to play content from their mobile devices to the TV. An included smart remote has a backlit QWERTY keyboard.
The M-Series ultra-slim frame that measures less than .3″ thin on most models with a metallic finish and ultra-narrow 8mm bezels that are up to 20% slimmer than last year's models.
The 2014 M-Series collection will be available to in-store and online retailers like Amazon, Best Buy, Costco, Sam's Club, Target, VIZIO.com and Walmart. For more information on VIZIO, please visit VIZIO.com.
The MSRP for the newly released models is listed below:
(M322i-B1) $329.99 (MSRP)
(M422i-B1) $529.99 (MSRP)
((M492i-B2) $699.99 (MSRP)
((M502i-B1) $699.99 (MSRP)
((M552i-B2) $899.99 (MSRP)
((M602i-B3) $1,249.99 (MSRP)
((M652i-B2) $1,499.99 (MSRP)
((M702i-B3) $1,899.99 (MSRP)
((M801i-A3) $3,199.99 (MSRP)