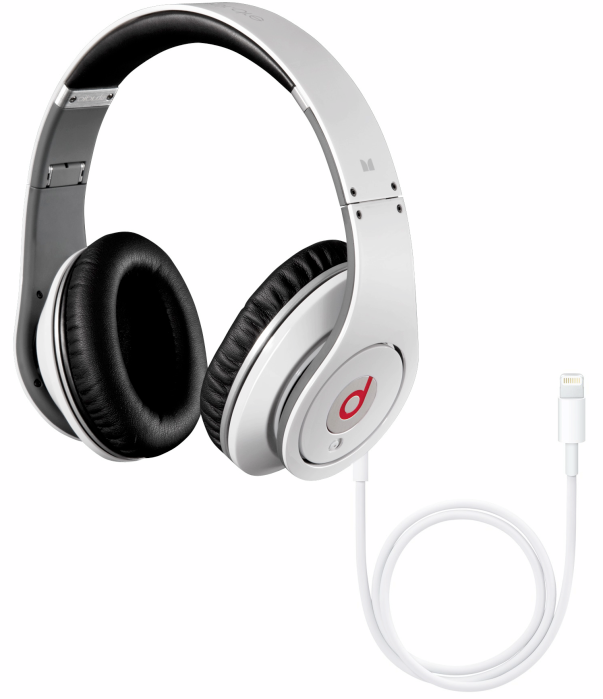 Image Courtesy of 9to5 Mac
9to5 Mac is reporting that Apple is providing participants in its "Made-For-iPhone/iPad/iPod" (also known as MFi) program a new specification that will enable them to connect headphones with a Lightning connector instead of the traditional 3.5m audio cable.  This is a quite unexpected and fascinating twist in the potential future of headphones as an accessory.  Lightning cables were introduced with the iPhone 5 as a replacement for the legacy iPod connector and provide synchronization, power, and communication/control.
Enabling such a connector opens up an entire world of possibilities including charging headphones (such as noise-reducing), putting DACs directly into the headphones, or passing an all-digital signal directly to the headphones thereby bypassing inferior DAC circuitry in the ever-shrinking mobile devices.  From what 9to5 Mac is reporting, Lightning headphones will be capable of receiving 47 kHz lossless stereo audio from iOS devices and send 48 kHz mono signals (presumably from a microphone) back to the device.  
Functions like volume, pause, and forward/reverse will now be handled via the lightning connector.  9to5 Mac reports that other functionality, such as launching apps, will also be part of the spec. 
There will evidently be two configurations: Standard Lightning Headphones and Advanced Lightning Headphones.  Headphones certified with the Standard spec will use minimum components when paired with a DAC supported by the Lightning module.  Manufacturers adhering to the Standard spec must use Wolfson's DAC.   Those manufacturers that make headphones based on the Advanced spec will be allowed to use active noise cancellation and a DSP and DAC.  
The news of the spec is certainly interesting considering Apple's recent acquisition of Beats headphones. 
Nevertheless, it looks as though Apple is looking at headphones as a strategic accessory and they may be playing an ever-increasing role in the increasing entry into health and fitness that Apple's new iOS8 is bringing to devices.