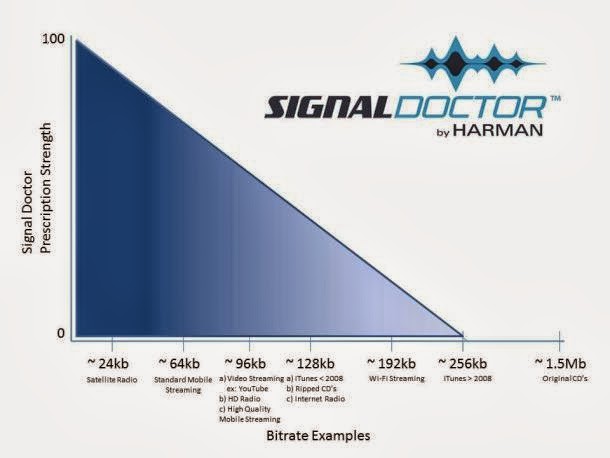 The Signal Doctor by Harman can help restore the audio quality in junky sounding compressed music. Image Credit: Harman
I've been following all the new products and announcements at CES 2014. 4k/Ultra HDTVs, OLED TVs, etc. have dominated most of the coverage. It was a brief coverage note that I picked up from both SoundAndVision and CNET that really piqued my curiosity.
Sound and Vision's John Sciacca wrote:
Where other enhancers just add a fixed amount of high and low-end EQ or reverb, Signal Doctor works by analyzing the incoming signal in real time and correcting waveform deficiencies based on the existing audio information based on Harman's years of understanding codecs and psychoacoustics. The technology also works with all compressed audio formats, including MP3, AAC, terrestrial radio and streamed content.
Harman has developed a system that basically cleans up compressed audio files. The more compressed the file, the more repair the system does to it. Harman's product is called Signal Doctor and by all accounts, its an impressive piece of software. So much so that Harman is including it in some JBL consumer-oriented products and will also be including it in their uber-expensive Mark Levinson line of products beginning with the $12,000 Mark Levinson 585 Integrated amplifier.
This product seems to hold quite a bit of promise and I'm looking forward to hearing more about it in the coming months.