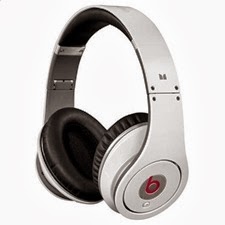 Beats by Dr. Dre are distinctive headphones
CNN has published an article titled, "How Beats Headphones Changed the Audio World". The article goes on to say how Beats took the image and branding opportunity presented by headphones. Well, those Dr. Dre Beats ran with it and their introduction helped spawn a huge market for the $200 and up market, which was considered expensive—not normative—just a few years ago.
The article also touches upon the fact that most audiophiles feel that the Beats headphones are just mediocre. I'd be willing to bet some are even comparing them to being the "Bose" of the headphone world (See Bose and the Audiophile: The Joy of Distain). In other words, what audiophiles are really saying is that the Beats headphones are simply marketing hype and overpriced for the audio quality you get.
There's probably some merit to that statement. Tyll Hertsens at Inner Fidelity held a Celebrity Headphone Death-match to pit all these celebrity branded headphones against each other. Needless to say, the Beats didn't exactly make the reviewers want to dump their current headphones.
If you find this topic interesting then you need to check out my other post on the work on headphones measurements being done over at Harman International by Dr. Olive. He and his team are making great strides in helping understand how headphone measurements correlate with quality. Once again, looking at it from a purely scientific point of view, those Beats by Dr. Dre don't exactly rise to the top.
There's no question that music is a subjective art. I've always been a proponent that if something sounds good to you then who am I to judge. I don't think I've ever seen Dr. Dre's beats being marketed as the most accurate headphones out there. On the contrary, I've seen Dr. Dre say in the ad below, "With Beats, people are going to hear what the artists hear, and listen to the music the way the should: the way I do."

So no, those Beats aren't intended to be accurate. Instead, they are designed to have a distinctive look and convey the music the way Dr. Dre hears it. Now, music aside, what I really think Dr. Dre has capitalized on is making his headphones among the most noticeable and fashion-statment head phones out there.
From that perspective, who am I to judge? But I still won't be buying a pair of Beats. I like the way I hear the music just fine 😉