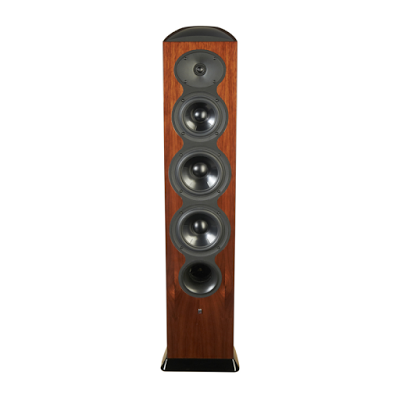 Revel is one of the venerable names in high end speakers. Their top Ultima2 line, released in 2007 universally won rave reviews and many speaker of the year industry awards.
The Performa line
, which has been Revel's mid-tier offering has promised a trickle down of the technology of the Ultima/Ultima2 line at a price point that is much more "affordable".
When Revel announced the Performa3 line back in January of 2012 at CES (Consumer Electronics Show), many in the audio industry were salivating at the updates over the older Performa2 line. The new speakers feature gorgeous wood and gloss finishes as well as some of the curved aesthetics of the Ultima2 line. Initially, Revel had been unclear about when the final production units would begin shipping with simply an "early 2013" date.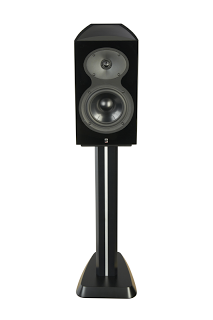 Revel's Performa3 M206
monitor loudspeaker with stand
Well, it looks like we're now at that date and the Performa3 line has been showing up in select dealer showrooms across the country with many audiophiles already having received their shipments. I can only assume that the standard industry reviewers have either received or will be receiving their pairs for fall issue reviews. There aren't any mainstream reviews of the speakers just yet.
Revel issued a release announcing that the speakers were now shipping and took the liberty of highlighting a few of their dealers (I'm sure that didn't go over well with the rest of their dealer network!).
So, if you're a fan of Revel's speakers, then you probably owe it to yourself to audition a pair. For us poor audiophiles, we'll need to save up quite a few pennies before we can actually own one!
Here's Revel/Harman's release below:
7/31/2013
HARMAN's Revel Performa3 Loudspeakers Are Now Shipping, Garnering Acclaim From Dealers Nationwide
NORTHRIDGE, California – HARMAN's Revel is now shipping its Performa3 loudspeakers, a complete range of home theater and music loudspeakers that incorporates significant engineering enhancements to the original Performa Series to deliver extraordinary music and movie soundtrack reproduction. Early reaction from Revel dealers and their customers has been highly positive.
Admit One Home Cinema of Minneapolis, Minnesota has been demoing various Performa3 models including the F208 and F206 floorstanding towers, C208 and C206 center channel speakers and other models. "We love them for their value and performance," said Lance Anderson, President. "People are really surprised at how good they sound – very sweet and detailed – and rate them as equal to or better than speakers that are two to four times the price."
"We find it interesting that in a time when people are supposedly moving away from larger speakers, the ones that are getting the most attention are the F208 and F206 floorstanding towers."
Naperville, Illinois dealer Barrett's Technology Solutions carries more than 20 A/V brands and is enjoying particular success with the entire Performa3 line. Joe Barrett, President noted, "Our best sellers to date have been the F206 floorstander, but I have to say the styling on the entire Performa3 Series is just beautiful – really refined styling with great finishes combined with high-end performance makes this series a great value in our showroom."
"Speakers like these are sold as high-performance speakers and they have to stand on their performance in higher-end 2-channel audio systems. They distinguish themselves on the sales floor really well and we are very encouraged with the Performa3 line."
San Francisco and Berkeley, California dealer Music Lovers prides itself on offering the Bay Area's finest high-end audio, home theater and home installation products. San Francisco Store Manager Josh Rudner and his customers are accustomed to hearing the best of the best – and the Performa3's are distinguishing themselves in good company. "The F208 is one of the main attractions of our Berkeley home theater and we have other models in our San Francisco listening rooms," Rudner noted. "We're carrying the Performa3 models in piano black and walnut and I think the walnut is just stunning."
"I think the Performa3 Series is one of the top-performing speakers in its price class. In fact, I can't think of another speaker that outperforms it at their price points."
To contact one of our highlighted Revel Performa3 displaying dealers, please visit their website:
HARMAN (www.HARMAN.com) designs, manufactures, and markets a wide range of audio, lighting and infotainment solutions for the automotive, consumer, and professional markets. It is a recognized world leader across its customer segments with premium brands including AKG®, Harman Kardon®, Infinity®, JBL®, Lexicon®, and Mark Levinson®, and leading-edge connectivity, safety and audio technologies. The company is admired by audiophiles across multiple generations and supports leading professional entertainers and the venues where they perform. More than 25 million automobiles on the road today are equipped with Harman audio and infotainment systems. Harman has a workforce of about 14,300 people across the Americas, Europe, and Asia and reported sales of $4.4 billion for the fiscal year ended June 30, 2012.