We audiophiles are a strange breed to buy for. Significant others will try to get us "traditional" gifts, but they often fall short of the thing we really want—something that will enhance our audio experience. So to help along those who love us, I've put together this gift guide for the audiophile:
Wireless, whole house audio:
Face it, audiophiles want music playing anywhere and everywhere they are. Unless you've wired your house, the poor audiophile will walk around the house distraught. That's where wireless solutions supporting Apple's AirPlay or Sonos come in: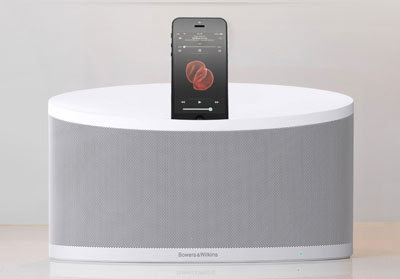 The B&W Z2 with Airplay comes in either white or black
and retails for $399
The Sonos Play:3 Wireless speaker comes in either white or black


Bowers and Wilkins Z2 ($399): Bowers and Wilkins, affectionately known as "B&W" has been rocking the audio world for generations and makes some of the world's best sounding and better known speakers. B&W's Z2 is an all-in one streaming solution that will allow you to stream music from your iPad, iPhone, or iPod Touch or plug in your device via the lightning dock connector. The Z2 has it all, wireless streaming from any of your audio apps and the great sound B&W is known for all in a small, portable package. It features a Class D amplifier for cool but powerful response The Z2 comes in either black or white and fits into almost any home decor. It's a winner for any audiophile. It's available online, at your local Apple Store, or via an authorized B&W retailer.
Sonos (promo $299): The veteran wireless streaming solution has something for everyone. Right now, there's a $299 promo for a Sonos setup that includes the Play:3 speaker, BRIDGE, and 90 days free of Rhapsody access. Sonos is an entire ecosystem that allows you to add wireless speakers or plug in directly to your main audio system.
Headphones:
Over the Ear Headphones:
Focal Spirit One $279: Let's face it, we're always on the go. Audiophiles want their music all the time—anywhere, anytime. That's why there's been a huge explosion of headphones in either the on-ear or in-ear (earbud) variety. Focal is one of the premiere audiophile brands and these headphones look cool and plush. They've already won rave reviews and come from one of the best audio pedigrees in the business. Given there are three cool color choices just sweetens the deal.
In Ear (earbud) Headphones:
B&W C5 Earphones
Bowers and Wilkins C5 $150: Once again, I'm turning to B&W for a fantastic audio experience. Their in-ear buds not only sound great but, unlike so many, never fall out. You can be active, walking or just lounging around and not worry about the buds falling out. Different sizes of adapters ensure a snug fit. Because of their unique design, they won't cut into the back of your ear or cause irritation. And, because the sound is all B&W, you can enjoy non-fatiguing audio all day.
What about the music?
Being an audiophile isn't just about the gear, it's also about the music! For the serious audiophile who has very particular or hard-to-buy-for taste, a gift certificate is in order. There are three that make good bets:
iTunes: The stalwart is simple, easy, and has a huge catalog. You can't go wrong.
HD Tracks: For the audiophile who demands nothing less than the best in digital audio, HD Tracks is the place to go. The catalog isn't as extensive as iTunes but there are a good number of great tracks.
MusicDirect: The Chicago-based titan has a huge catalog of vinyl LPs, CDs, and SACD of some of the best bands, singers, and recordings in the business. If you are looking for physical media for music, look no further than MusicDirect.