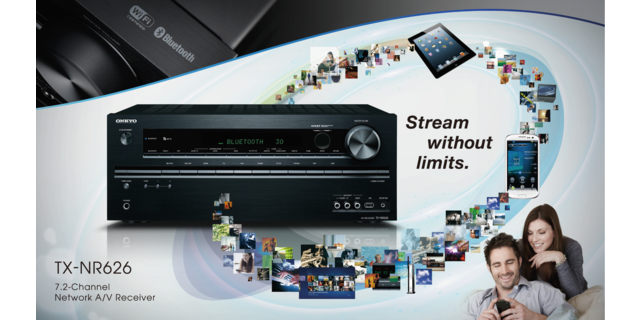 Year after year, Onkyo churns out great gear and new models  Whether it's high-value entry models or their premium Integra line you always get lots of features for the money.  Onkyo appears to be keeping this tradition alive with the announcement of their new TX-NR626 7.2 channel network receiver.  
What you get for a $500 price point is unbelievable.  4k upscaling (UltraHD to use the official term), Audyssey room correction, WiFi and Bluetooth, smartphone app as a remote control, and THX certification on the 727 model is unbelievable.  
Onkyo continues to get stellar reviews for audio and video performance and features.  This latest crop of AV receivers looks like it will once again keep that reputation alive.
For those interested, the news release follows and if you're interested in picking up any of the new receivers, you can click on the links in this article.
Gröbenzell, Germany. Continuing its reign as the world's foremost creator of user-focused home entertainment products, Onkyo has unveiled three exciting network A/V receivers for the 2013 model year, pushing standards for performance and value to unprecedented heights at the entry-level. 


The respected electronics company continues to forge ahead on feature count and functionality, the with following upgrades announced for its entry-level network A/V receivers: 


# Built-in Wi-Fi supported by a remote app that enables lossless audio streaming from iPhone® and Android-based devices, as well as app-controllable FLAC, Apple Lossless, Dolby® TrueHD, LPCM, and DSD hi-res streaming from NAS and personal computer via network and DLNA*


# Onboard Bluetooth technology to enable fast and reliable audio streaming from cellphone, smartphone, tablet, and computer*


# An expanded selection of music streaming services and internet radio providers (including Spotify, TuneIn Radio, and Last.fm) selectable via remote app
4K Ultra HD passthrough via HDMI® from media players and projectors (all three models) and Qdeo™ 4K video upscaling technology (TX-NR626 and TX-NR727)*TX-NR525 requires adapters to enable wireless LAN and Bluetooth technology


# Upgraded Audyssey MultEQ® room acoustic correction to equalize and calibrate subwoofers as well as satellites.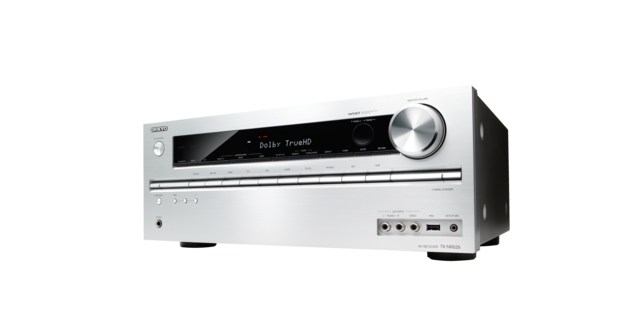 As the most powerful model on release, the THX® Select2 Plus™-certified TX-NR727 Network A/V Receiver drives through 7.2 channels equipped with Three-Stage Inverted Darlington Circuitry, making it an ideal choice for filling larger rooms with studio reference surround sound. The receiver offers Dolby® Pro Logic® IIz and Audyssey DSX® upmixing, and Whole House Mode for distributed audio in up to three zones. Eight HDMI inputs include MHL™ support for 1080p video from smartphone and tablet, while two HDMI outputs are featured to connect a projector and TV display.


Harnessing technology and making it easier to use is always a major priority, and to this end, InstaPrevue™ video switching technology and an elegantly simple HDMI-powered user interface are included. Remote app control, meanwhile, extends across three zones, supporting audio streaming from the local network and making it easy to search for the albums, playlists, and internet radio channels available through the receiver.


  Users searching for exemplary audio-video performance on a tighter budget may consider the formidable TX-NR626Network A/V Receiver. Three-Stage Inverted Darlington Circuitry—a sophisticated amp topology designed for high-energy output with minimal distortion—is present on the front and center channels. The TX-NR626 is suited to playing multi-channel movie soundtracks and two-channel music with a high degree of transparency. 4K Ultra HD video passthrough and upscaling—plus built-in Wi-Fi and Bluetooth technology—reflect the exceptional value of this fully featured A/V receiver.


With a useful amount of power, network connectivity, and streaming service implementation—along with provision for Bluetooth technology and wireless LAN via optional adapters—the 5.2-channel TX-NR525 Network A/V Receiver is a strong contender at the entry level. Six HDMI inputs, Audyssey MultEQ®, InstaPrevue™ technology, and Hybrid Standby (which maintains HDMI and network connectivity) are practical inclusions to streamline, simplify, and optimize the home theater system for everyday use.


All models presented here are endowed with class-leading audio pre-processing and proprietary WRAT (Wide Range Amp Technology). This key to this acclaimed technology lies in Onkyo's low-negative-feedback amplifier topology, which extracts the full dynamic potential in the recording. High instantaneous current capability, meanwhile, provides a deep reservoir of power to handle the sudden dynamic gains common to movie soundtracks, while noise-canceling closed ground-loop circuits assist with the clean and clear delivery for which the Onkyo brand is celebrated.


From its roots in two-channel hi-fi, and pioneering contribution to multi-channel home theater, Onkyo is now leading the way toward housewide entertainment systems driven by powerful A/V processing hubs. Rapid innovation is leading to better-equipped products at all levels of the market, allowing consumers to enjoy the life-changing benefits of the digital revolution.