In previous posts
, I chronicled one of my current audio projects. I'm trying to get audio into my kitchen, bedroom, and family room using my Anthem pre-pro's Zone2 and Zone3. By doing this, I could be playing one thing in my main zone, and something completely different in either the Kitchen or bedroom or family room.
There's one catch, to use the Zone2 or Zone3 feature I need an analog audio signal. Since I primarily use an AppleTV for the music or content I want, I'm stuck since the AppleTV (generations 2 and 3) offer only digital outputs. My ideal solution is a DAC that offers what's known as digital passthrough. Such a DAC will convert the digital signal so that I can feed analog audio to the Anthem but also pass along the original digital signal to take advantage of multichannel audio, bass management, etc. If you're interested in the details, you can read about the additional setup details in the previous posts.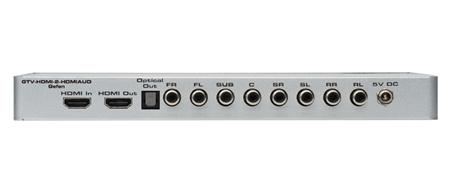 The Gefen HDMI to HDMI with audio conversion has all the features I'm looking for and is right within my poor audiophile budget range!
I documented a comprehensive list of DACs here that would do the trick. Being the poor audiophile, I decided that the best solution was the Gefen HDMI to HDMI with audio conversion. I had an initial question if the product would indeed do what I needed and I got a positive response from Solid Signal. Solid Signal made sure to query Gefen's support directly to confirm my needs. That's great customer service and a big thanks again to the folks and Solid Signal.
Last night, I ordered the Gefen unit and hope to get it sometime next week. I'll document my impressions and experience with the unit in forthcoming blog posts so anyone else looking to do the same thing will have a nice blueprint.
In the meantime, this graph below is how I envision my setup to work. The only item not shown in the diagram is that the toslink audio out from the AppleTV is going out to a non-HDMI enabled Marantz receiver powering my 4.1 setup in the family room.