Yesterday, I posted how I was able to quickly and easily cleanup my iTunes library using a piece of software called TuneUp. I promised I'd detail things a bit more so here we go.
I have an old Mac that is dedicated specifically to recording and serving up media on my network to my home entertainment setups, my AppleTV, and my mobile devices. I use iTunes to organized all my audio and videos. If that iTunes library isn't clean and organized, then it's a real problem. For some time, I've had some issues—especially with the audio files. The media library needed to be cleaned up, but finding the time to do it has been a challenge.
Enter TuneUp:
TuneUp is a piece of software that works on both Macs and Windows PCs. There is also a mobile version of the software for iPhone and iPad users. The software promises to quickly:
Fix songs including artist and album
Fix missing album cover art
Deduplicate songs in the library
When I realized that I had nearly 11,000 songs in my library, I knew I had to have a piece of software do it for me. After downloading and trying some demos, I settled on TuneUp and I'm so glad that I did.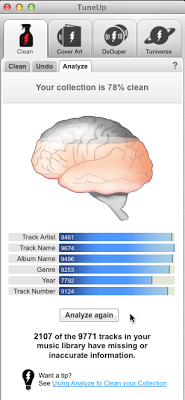 TuneUp allows you to run a quick scan of your system. Initially, TuneUp found that nearly 3,000 songs of the 11,000 in my library had problems. After running a first sweep with deduplication, the errors dropped by almost 1,000 and my songs after deduplication went down to just around 9,700. Once TuneUp was finished with everything, I was able to get my system 78% clean and the material it couldn't clean were voice memos, and foreign language CDs. Very impressive.

TuneUp was a snap to use. The easiest thing to do is go to the Clean tab and select Analyze. This will give you a quick snapshot of your library. My initial scan showed about 3,000 problems with just shy of 11,000 files. What I then did is allowed TuneUp to create a playlist of all my problem material in iTunes. TuneUp will create two playlists.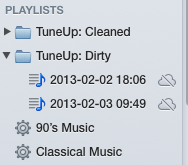 TuneUp creates a "clean" and a "dirty" playlist so that you can quickly see what media you need to tackle.
The first is called TuneUp: Cleaned and TuneUp: Dirty. The TuneUp:Dirty playlist contains all the songs with any kind of problem. You can then load that playlist into TuneUp and start your work. Running DeDupe was an absolute life-saver! I had started loading in my CD collection. I had done that previously many, many years ago and most of my CDs had been imported at 256k or 128k or some variation. Now, I've been reimporting my collection in Apple Lossless for the highest fidelity.
One big surprise that I wasn't expecting was the ability to remove duplicate voice memos and audiobooks. I hadn't realized that over the years I'd synchronized multiple copies of voice memos. TuneUp allowed me to clean them all up quickly and easily.
TuneUp had no problem finding duplicates by name but also by sampling rate. Best of all, by default, it chose to keep the song with the highest bit rate. This made cleaning up my library and keeping the lossless versions a breeze!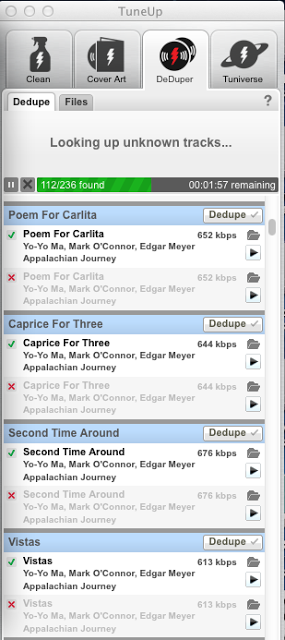 TuneUp allowed me to dedupe songs quickly and easily.
Here are some exact duplicates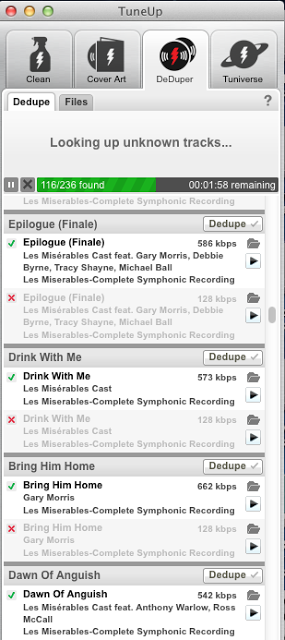 TuneUp will automatically chose to keep the song with the highest bandwidth by default.
A truly fantastic feature of TuneUp was the find cover art section. Several years ago, I used a product called Cover Scout. It was a great product but required manual intervention to work well. The main feature of Cover Scout is that it would return image results from a variety of sources. Though very comprehensive, you still had to spend a fair amount of time to go through all the options. TuneUp was a different experience in terms of the speed of the process. It gave me choices but not an overwhelming number.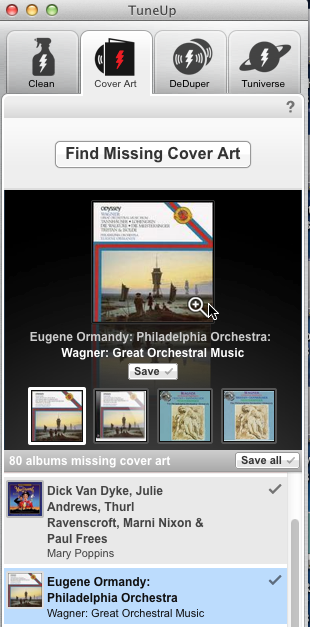 TuneUp gave me up to four choices of album covers to choose from.
Fixing album art was very simple and fast and could be done in batch.
A nice feature of the Cover Art tab was the ability to zoom in and look at other possible choices. Clicking on any thumbnail replaced the current one.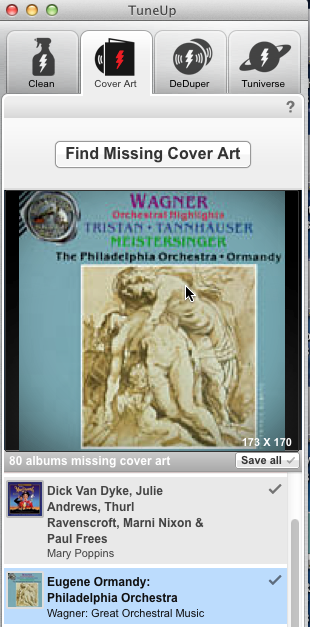 TuneUp quickly found the album covers for some of my favorite classical pieces.
I could zoom in to get a closer look of the album art by holding down the mouse button.
So, in the end, what was my experience with TuneUp? I don't think you can give a product a better recommendation than to purchase it. And that's exactly what I did.
It cleaned up almost 1,000 duplicates and left me with the better quality, higher bit rate versions. My library is complete with cover art and my songs are better organized than ever–especially multi-CD collections!
I was very, very satisfied with the results and recommend TuneUp highly for anyone looking to fix their digital music library. If you'd like to purchase TuneUp as well, then you can follow this link and you'll get a special promotional code to enter at checkout to get a 15% discount off the price: http://tuneup.tellapal.com/a/clk/5THcCM