Riva Audio has jumped into the whole-home wireless speaker market with the announcement of its new Wand Series of speakers. The new Wand Series is a customizable and easy-to-use multi-space audio system that the company says delivers high-quality, patented stereophonic sound from a single speaker. With the new Wand series speakers, can play to any room or outdoor location from any networked or online source. Given how awesome the company's existing Bluetooth speakers are, we're excited by Riva's entry into this space.
With the announcement of the Riva Wand series, the company has also unveiled its new Arena and Festival speaker, which will be available in late November.  Pricing for the Arena and Festival speakers is expected to range between $249.00 – $499.00. The Arena will be available in the Riva's traditional Black/Titanium and White/Silver patterns. The Festival will be available in Black/Titanium.
Riva's Wand Series features the compact RIVA ARENA and full-range tabletop RIVA FESTIVAL speakers, both featuring RIVA Audio's patented Trillium™ audio technology. Trillium™ is ADX's™ proprietary 3-channel audio technology that enlarges the audio image while allowing the power of the audio to be reproduced.
The compact Riva Arena speaker uses three full-range custom ADX drivers with three passive radiators to create up to 101dB of enveloping sound. As is typical with Riva speakers, the Arena can be configured for single or stereo pair use and will have an optional 16+ hour battery pack for use as a portable speaker.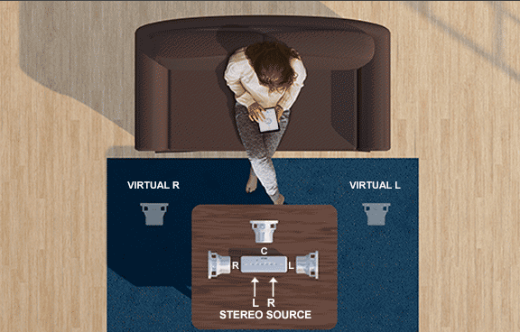 The Riva Festival drives 6 custom ADX™ woofers and tweeters coupled with 4 passive radiators to produce up to 106dB without dynamic range compression. Bass digs down to 38Hz for excellent depth and impact. Arena and Festival set up and control is done through the Riva Wand app with supported voice commands.
"Many talented people have worked very hard to bring such quality and flexibility at a very affordable price," noted company Chairman and Chief Creative Officer Rikki Farr.  "They've created a compact, open system that consumers can play with any source. Finally, I can listen to the music of my past played back as close to LIVE as it gets in a compact system that integrates into any situation!  Very rewarding.
The Riva Wand App
Setup is easy and intuitive and guided through the Riva Wand app. Once set up, you can pull up your music library or favorite streaming service. The Riva Wand serves as the hub for creating zones and stream different music. You also have the freedom to play directly from your favorite third party apps.
What does this mean for listeners? Trillium™ gives listeners an audio experience as close to live as it gets by using three discrete channels to create stereophonic sound much larger than the actual speaker size. Compare this to most wireless speakers that are mono or quasi-stereo. WAND products produce truly immersive sound with deep, powerful bass just about anywhere.
Hi-Res streaming support
Many competitors in the whole-house wireless speaker market are adopting high-resolution audio streaming and major streaming services to differentiate themselves from the 800 pound gorilla in the market, Sonos. The Riva Wand Series certainly ups the ante. Both speakers are high-resolution compatible, playing music files up to 24-bit/192kHz resolutions. Audio Codecs supported include:MP3, ALAC, APE, FLAC, FLAC HD, HLS, WMA Streaming, RTSP and PCM/WAV.
In addition to hi-res music, the new Wand series supports podcasts, YouTube channels, or music services through multiple connectivity options including Wi-Fi, DDMS, Spotify Connect, AirPlay, DLNA and Bluetooth. The WAND series is even Google Cast ready.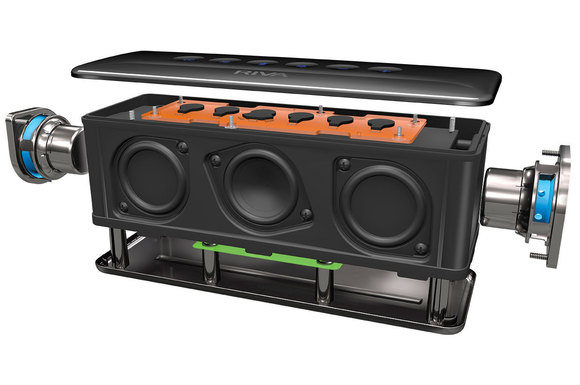 Unlike many wireless speakers, the Riva Wand gives you lots of connectivity options. You can go from a direct connection to a whole-environment wireless networked audio system that can simultaneously stream to up to 32 speakers that the company says happens without acoustic latency.
Another neat feature of the new Wand series is that you can take them outside and away from your Wi-Fi network and still have them work in tandem.  The Wand series speakers can create their own ad hoc network for the ultimate flexibility.
As with Riva's previous speaker offerings, the Arena model is splash resistant and, with the optional connected battery pack (16+ hours), can be used anywhere. The Arena and Festival include analog and USB inputs with charge out for phones and tablets, and the Festival will also include an optical input. Riva says that the inputs are beneficial for users with an existing wired or wireless system who want to introduce RIVA's Trillium audio into their home.