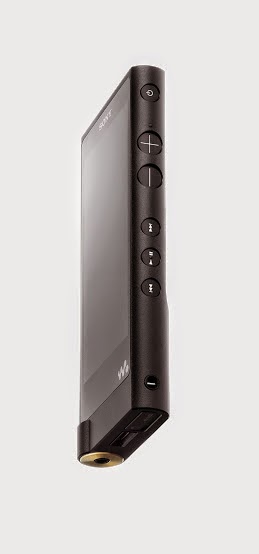 Sony's new high resolution NW-ZX2 Walkman digital player
Sony's original walkman revolutionized portable music more than a decade before the iPod. While Sony may forever kicking themselves for not adapting to a digital generation that isn't stopping them from launching a new, digital Walkman.
At CES in Las Vegas, Sony announced new portable audio products—some of which sport the "Walkman" name— and are designed to reproduce what Sony claims is the ultimate audio sound quality without restictions or set-up hassles.
The new products are the High Resolution NW-ZX2 Walkman® player along with the MDR-1ABT Headphones and the PHA-1A headphone DAC/amplifier. I personally wish Sony and other manufacturers would learn that consumers can't stand these silly numerical product names. Nevertheless, to complement the alphabet soup of Walkman, headphones, and headphone DAC/amp is a Hi-Res car audio head unit.
Sony says that it is making for users to enjoy music at a higher sound quality by applying unique audio technologies that bring listeners closer to the spirit and intent of the artist's original performance. These new products, Sony claims, equip consumers with the best portable products possible to enjoy a fully immersive, Hi-Res audio experience from practically any location.
Sony's new LDAC™ technology provides high quality wireless audio via Bluetooth®. Sony says that with 3x the data transmitted, LDAC provides an enhanced wireless listening experience for all your music.
Here are some details, direct from Sony, on the new products:
Walkman® NW-ZX2
Experience High-Resolution audio like never before with the Walkman NW-ZX2 which can reproduce master quality recordings just as the artists originally intended. The S-Master™ HX digital amplifier, uniquely developed for Hi-Res audio playback, reduces distortion and noise while reproducing wide frequency response for a clearer acoustic experience. It is also equipped with DSEE HX™ technology, allowing streaming sources which are not Hi-Res quality to be upscaled to provide higher quality sound.
The NW- ZX2 supports digital music files up to 192 kHz/24 bit and compatible file formats are MP3, WMA, AAC, FLAC, AIFF, WAV and ALAC including DSD[1]. It also comes with 128GB of built-in memory, as well as micro SD card slot, Wi-Fi and a large capacity Lithium-ion battery that provides up to 60-hours[2] of music playback per charge.
Sporting a frame with rounded sides carved out of aluminum alloy, the Walkman NW-ZX2 features a striking design and highly rigid case. Adoption of the gold-plated copperplate in the structure has resulted in an extremely stable ground due to its low electric resistivity. The powerful bass and the improved sense of stereo have been realized due to a number of audio components , such as the enhancement of power supply by using of electric double layer capacitors , OS-CON and large capacity Li-ion battery. The other refinements that also contribute to the high-quality sound are thick-film copper-layer PCBs, OFC cables and high-purity lead-free solder. These enable the NW-ZX2 to achieve a higher sound resolution by reducing the impedance.
The Walkman NW-ZX2 will be available in spring 2015.
MDR-1ABT Wireless Stereo Headset
Following on the success of the MDR-1A headphones, the new MDR-1ABT headphones are the ideal way to showcase high quality sound on-the-go with Bluetooth connectivity. In addition to delivering outstanding sound quality, they offer remarkable comfort with ergonomic ear pads and a wraparound design for improved fit that also prevents sound leakage.
The MDR-1ABT headphones feature a lightweight and responsive aluminum coated Liquid Crystal Polymer Film diaphragms to provide the rigidity necessary for balanced sound reproduction, while minimizing coloration across the audio spectrum. The headphones offer hands-free talk with echo cancellation and noise suppression that enables clear sound quality for hands-free calls on compatible smartphones. Additionally, they feature touch sensor controls with NFC to allow users to control music from the side of the headphones easily without having to connect with wires or use set-up codes.
The MDR-1ABT Bluetooth Headphones will be available in spring 2015.
PHA-1A Portable DAC/Headphone Amplifier
Enhance the quality of everything you listen to with the compact PHA-1A Portable DAC/Headphone Amp. Easily connect to your compatible digital music device, PC, or smartphones via USB input to enjoy Hi-Res audio playback on the go.
The ultimate companion for Walkman NWZ-A17, the easy to use, lightweight PHA-1A elevates the listening experience allowing you to bring the highest quality sound with you wherever you go.
The PHA-1A Portable Headphone Amp / DAC will be available in spring 2015.
Car Audio Head Unit
Also announced, the new mobile product line-up features the first car audio head unit that is compatible with high-resolution audio formats including DSD native playback. The single DIN head unit will include a DSEE HX (Digital Sound Enhancement Engine) to reproduce high-resolution audio even with traditional lower resolution sources, such as MP3's.
The High-resolution car audio head unit will be available in summer 2015.