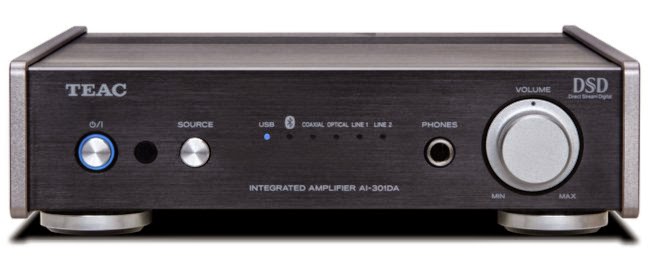 Montebello, CA – September 2014.   TEAC, recognized globally as a leading manufacturer of high grade audio video electronics, is pleased to introduce the AI-301DA Hi-Res Audio Player. As a pre-main amplifier outfitted with Bluetooth®, USB, support for Direct Stream Digital (DSD), and integrated Digital-to-Analog conversion, the new AI-301DA Hi-Res Audio Player is the ultimate choice for digital music enthusiasts. It delivers a dramatic sonic improvement over physical media such as vinyl, tapes, and CDs, as well as compressed audio formats like those commonly streamed over the Internet.
At the heart of the AI-301DA's superior audio performance is the unit's support for DSD native playback via USB, which converts 5.6MHz DSD files directly into analog signals, without first requiring PCM (Pulse Code Modulation) conversion. With support for both the ASIO 2.1 and DoP (DSD over PCM) conversion methods, music enthusiasts can enjoy the benefits of Hi-Res audio, including 5.6MHz DSD or 32-bit/192 kHz PCM files. TEAC's HR Audio Player* computer software application makes interfacing with the AI-301DA easy.
When receiving digital audio signals from a computer via USB, the AI-301DA can operate in asynchronous mode, effectively eliminating signal jitter—enabling digital audio signals to be transmitted in a pure, unadulterated state. This capability is yet another feature that helps one enjoy the best audio quality possible. Equally important, the AI-301DA uses a high-performance BurrBrown PCM1795 digital-analog converter that processes 5.6MKz DSD or 32- bit/192kHz PCM digital data into analog form. The result is a finely etched sound, with a great sense of depth.
Of particular note, the TEAC AI-301DA also supports Bluetooth wireless playback using the aptX® codec. In addition to wireless playback capability, the aptX® codec also offers low latency and an excellent error recovery function, which are both crucial features for achieving the best audio performance possible. The aptX codec can transmit the wireless data at the same quality as CD audio, which is 16-bit, 44.1 kHz without any compression of the data.
In addition to its USB audio input, the AI-301DA is outfitted with S/PDIF inputs for maximum compatibility. The coaxial input can accept 192 kHz / 24-bit data while the optical input accepts up to 96 kHz / 24-bit. The result is maximum compatibility with other devices in one's high-end home entertainment system. And with Auto Power On capability for sensing digital signal input—the AI-301DA provides seamless integration with TVs and other electronics.
Hiroshi Oshima, Vice President of Consumer Product Division of TEAC Corporation commented on the new AI-301DA Hi-Res Audio Player, "The advent of Hi-Res audio marks a dramatic step forward for enjoying music playback. Unlike music streamed via conventional Internet-based music services, there is no data compression that compromises the audio quality. With Hi-Res audio, performances exhibit a dynamic presence that is truly impressive. Today's recordings are typically captured at either 24-bit / 96 kHz or 192 kHz sampling rates. With the TEAC AI-301DA, music enthusiasts can finally appreciate the rich, detailed, accurate sound quality as the artists and engineers originally envisioned."
Featuring a compact form factor that has been meticulously crafted from aluminum panels—with a motor-driven volume knob delivering the tactile feel audiophiles expect from controls found in high end full-size hi-fi components—the new AI-301DA Hi-Res Audio Player is available in Black (AI-301DA-B) and Silver AI-301DA-S front panel finishes.
TEAC's AI-301DA Hi-Res Audio Player carries an MSRP of $549.99. The units are available now.
About TEAC
TEAC America, Inc., established in 1967, is the largest subsidiary of the Japanese electronics maker TEAC Corporation. TEAC distributes high grade audio video electronics, consumer electronics, and professional recording equipment as well as disc publishing and duplication products. Products are marketed by TEAC America under the brand names TEAC and TASCAM. To learn more about TEAC and TASCAM products, please visit: www.teac.com and http://tascam.com.