RBH 1266 SE
I received an email from one of one of our readers, Chad, who got an incredible deal on a pair of RBH Sound1266-SE speakers. These speakers retail for $2,899/pair and Chad got a steal of a deal on a pair through an auction—Congratulations Chad on your new purchase!
Chad's specific question was, now that he has the RBH Sound 1266-SE speakers, he feels as though he has nothing strong enough to power them and is asking for guidance on a good receiver under $1,000 that would be a good fit for the speakers.
I'm not intimately familiar with the speakers so I did a bit of research on their specs. Chad wrote in that they are 4ohm speakers and take a max of 300w for amp power. I wasn't able to confirm the exact spec's Chad sent. My research, thanks to an older Sound and Vision article listed the specs of the speakers as being a 3-way port-reflex designed speaker at 88dB sensitivity at 4Ohms with a frequency response of 27Hz-20kHz and featuring a 1″ silk dome tweeter, two 6 1/2″ aluminum cone mid woofers and a 12″ aluminum-cone woofer. Power handling is listed as being between 20-250w.
The Sound and Vision review was done by Michael Fremmer. I've followed Michael Fremmer's in Sound and Vision and Stereophile and now Analog Planet for many years and he's always been one of my favorite audio reviewers. Michael gives the RBH speakers a glowing review.
Chad didn't specifically mention it in his e-mail, but I assume this will be a two-channel music setup and not a home theater, multichannel surround setup. Assuming such a two-channel setup, I'd recommend an integrated amplifier over a multichannel receiver. An integrated amplifier is another name for a two-channel receiver. An integrated amplifier (typically) assumes analog or digital (non-HDMI) sources. More importantly, an integrated amplifier typically has superior amplification vs. a receiver. By "superior amplification" I mean in both watts per channel or power and the ability to handle lower impedance speaker loads.
One caveat I want to mention: at your target price point of $1,000 you aren't going to find many options giving you lots and lots of power. I'll give you some options I'd consider given what you mentioned in your email.

Krell S-300i Integrated Amp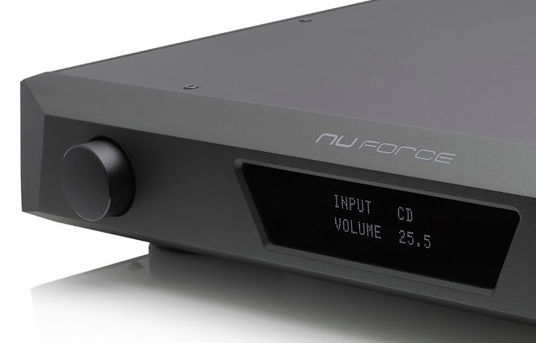 NuForce MCP-18 preamp



Krell S-300i: An absolutely spectacular solution, but out of your price range would be the Krell S-300i. The Krell integrated is on sale now from $1,750 from $2,500. The reason why I like the Krell so much is because the speakers you're talking about are full range speakers and to handle that authoritative bass, you're going to need good, solid amplification that can really grip the demands of that lower end. That's where the Krell units excel. Krell amplifiers are also legendary in their ability to handle almost impossible speaker loads so a 4 ohm speaker won't even make it break a sweat. If you can stretch your budget, this unit is a steal.
Separate amplifier and preamp: Emotiva amp and stereo preamp. Separates are a great solution with what you're trying to do. However, separates typically cost you more than an integrated solution. The benefit of separates is that as the technology and your needs change you can change out individual components. Likewise, when you go with separates you also tend to get better amplification and options. Your price point of $1,000 is tough, but I'd suggest looking at the Emotiva UPA-200. On sale now for $314, this 125wpc into 8 ohms and 200wpc into 4 ohms amp will give you plenty of power for the RBH 1266-SE speakers. I'd pair up the Emotiva with either the NuForce MCP-18 preamp (on sale now from $995 to $599) or the Parasound Classic 2100 Stereo Preamp ($695 retail). The NuForce and Emotiva combo comes in under your budget and is a spectacular deal.
NAD C-356DAC Stereo Integrated Amp: If the Krell isn't an option and you don't like the option of separates then I think you should seriously look at the NAD. I've owned NAD products in the past and I think they are truly great. In particular, their amplification stages are typically under-rated and are very stable into hard-to-drive speaker loads. The NAD is rated at greater than 80wpc but has rated dynamic power of 145w into 8ohms and 220w into 4 ohms for those dynamic passages. Remember for the overwhelming majority of the time, you'll be running only a few watts per channel.


NAD C-356 integrated amp with DAC
There isn't much else that I'd confidently recommend that you consider given your email, your requirements, and what I know good clean power can do to help the overall presentation and clarity of a good set of reference speakers. If you can stretch your budget, I think you will be ecstatic with the Krell. Otherwise, you can't go wrong with either the Emotiva/NuForce separates or NAD integrated.
Let me know how your search goes Chad and I hope you find a great deal to go with your new RBH-1266 SE speakers!