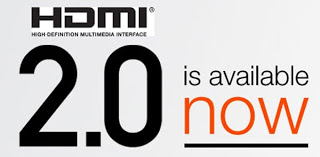 The 2.0 Specification for HDMI has finally been announced. Audiophiles rejoice! Now, am I being serious or sarcastic? Much of the buzz about HDMI 2.0 has centered around it's video capabilities—support for UltraHD/4k/2160p displays. However, not much has been made about the audio that HDMI 2.0 promises to bring.
There are two potential benefits that I see with the 2.0 specification:
The first is more channels
The second is increased audio resolution


1. More Audio Channels
Unlike previous HDMI iterations, which were limited to 8 total channels (traditionally used in 7.1 or 7 channels plus a sub for the .1) the new 2.0 Specification allows for 32 channels. While two-channel purists may initially scoff, it doesn't mean that you now need an audio listening room with walls ceilings and floors of speakers. Rather, the more practical implication is that those 32 channels can be used among four simultaneous people each listening to different audio. For those who have multiple multichannel audio installations in their homes or who would like to have such installations, HDMI 2.0 may be a positive development.
On the true, multichannel front, HDMI 2.0 may also allow for more channels that will create a more enveloping and ambiance-rich environment. While this may very well be a welcome addition, it still won't solve an underlying problem: more channels brings more complexity to the average person. It's better—far better—to spend 100% of your budget on high quality two-channels than spread your budget out by 1/8 for each speaker and have a sub-par setup. I'll be very curious to see real-world implementations of this and how it ultimately pans out. For now, I'm very excited from the technology POV but skeptical in the real-world/average person/poor audiophile POV.
2. Increased Audio Resolution
No one will be able to argue with the fact that better resolution is necessary for delivering a superior audio experience. Just last night, I spun up some vinyl and I was listening to tracks that I normally listen to through my iPhone or on my system streamed from my iTunes server. It was different. It was, dare I say, better. But let me be clear. It wasn't better because vinyl is necessarily better (vinyl too has it's issues and limitations). Rather, the major issue has to do with the fidelity and resolution of the digital version that I have of the same recordings. You simply cannot put a 256k file against vinyl and expect the 256k to sound better or even equal to the vinyl version.
Bluray has indeed been a saving grace for audio because of it's lossless audio formats; and Bluray shows that digital can sound good if the fidelity is there. Well, the HDMI specification will now call for 1536kHz audio sample frequency support. That also doesn't mean it needs to be yet another physical medium. Whether it's a physical disc or downloads, it will be a wonderful thing to continue to see a trend towards better fidelity.
To be up front, there's lots I just don't like about HDMI. Personally, I'm waiting for HDBase-T to take over. That's because I feel as though the promises of HDMI have fallen short—from limited distance runs to terrible, unacceptable handshake issues—HDMI isn't a panacea. I'm cautiously optimistic that the ever-evolving HDMI Specification will yield better and better fidelity so that the technology can get out of the way so that we can all simply get to the essence of the music in its best form.