With iTunes Radio just a few weeks away, I came up with my wish list of what I'd ultimately like the service to offer. So here it goes:
Dear Apple,
I'm an audiophile. And you know what? I love music. Yup, I love music just like you. But I don't just love music, I also care how the music I love is played back, how it sounds, how I experience it.
I love, or at least I hope I'll love, what you're going to do with iTunes Radio and I'd like to offer some thoughts:
First, please lead don't copy. I'm not looking for an Apple version of Pandora. I'm looking for a truly Apple-like experience of music discovery.
Secondly, I care about the quality of the music I'll be listening to. I would like to have high fidelity streaming. I'm smart enough to know that it's more about the codec than the bitrate so I'm not simply asking for you to give me 512k streaming. But please give me a high-fidelity experience. Give me a file that any audiophile would be proud to play—whether it's a $500 system or a $150,000 system. Help me not simply hear music, help me experience it all over again.
Thirdly, I'm willing to pay for the unique experience and the better quality. Let's face it, no matter how many billions you have in the bank, you need to make the service profitable. OK, I get it.
Fourth, please make the iTunes ecosystem of AppleTV, iPhone, and iPad a premiere music experience. I'm talking hardware here. I don't want to be limited to 16 bit on the AppleTV or with AirPlay. You can do better with the hardware. Please make the hardware capable of true audiophile playback.
Fifth, you started the revolution, please don't lead it to a state of dilution. There's this iconic photo of Steve Jobs from the early days of Apple. He's sitting with his turntable and his high end Acoustat speakers. He couldn't decide on the right furniture but he could decide on the right sound and system. Is it safe to say that he valued the music and its playback over furnishings? But I digress.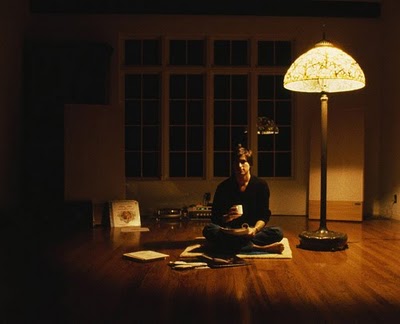 Steve Jobs with his Acoustat Speakers.
What I'm trying to say is you started a digital music revolution. That revolution was about freeing music—listening. where you want on any device you wanted. Making it simple to access and portable. It was about discovering and experiencing new artists, about making music so accessible and so easy and affordable that you wouldn't want to steal it any more. And there was so much more that it was about.
I just don't want the digital music revolution to be remembered as the revolution that killed the quality of the experience, the quality of the music. Please don't let fidelity be a casualty. If so, then the cost would have been far too high a price to pay.
Well, I'm not very good at writing letters as you can tell. I guess what I'm really trying to say is that I want iTunes radio to rock (literally and figuratively since you're asking). I don't want it to suck, please. Please don't let it stink.
Thanks for listening. I'll be listening too. Hopefully I'll be able to hear the difference.
The Poor Audiophile